By Richard Muhammad
StraightWords e-zine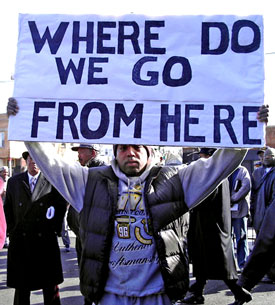 CHICAGO (FinalCall.com) – As a second mother prepared to bury a daughter hit by a stray bullet in the Englewood neighborhood, the mayor and governor repeated demands that assault weapons should be banned in the state.
But, for some, the outpouring of concern, marches, vigils and promises led to a question: What interest will remain once media coverage subsides?
"It is difficult to explain, explicable to understand, how two young children going about their lives–one at a birthday party, the other about to go to school–in their homes, safe presumably, and then both be victims of gun violence," said Governor Rod Blagojevich, speaking Mar. 18 at a podium in the parking lot of Liberty Christian Church, before a march through the streets where Starkesia Reed, 14, and Siretha White, 10, died within a few blocks from each other.
Starkesia was killed Mar. 3 when a bullet fired from an assault rifle missed its target, but struck her as she dressed for school in her bedroom. Days later, Siretha was bubbling with excitement before shots rang out, apparently aimed at men sitting on the steps of the home where she was to celebrate her birthday. Reports have said the weapon used was an assault rifle or automatic weapon. Police said the Reed shooting was likely from a personal dispute and the White from gang-related violence.
It will be an uphill battle to pass a "common sense" law that would make assault weapons illegal, the governor complained. "These are weapons of mass destruction," said Gov. Blagojevich, who blasted lawmakers that would "rather do the bidding of the gun lobby than protect neighborhoods like Englewood. No law-abiding citizen needs a semi-automatic assault weapon."
The General Assembly failed to pass an assault weapons ban by two votes in the last legislative session, the governor informed. Pro-gun legislators need to visit Englewood and see the devastation wrought by military-style guns, he argued.
"There is no excuse, no excuse, for anyone to sell dope to any child in any community. There is no excuse for anyone to take a gun and point it at a child or at a home in any community," said Mayor Richard Daley. He was flanked by Rep. Bobby L. Rush (D-Ill.), Alderwoman Latasha Thomas, state lawmakers Jackie Collins and Mary Flowers, other political, religious leaders and community leaders with reporters, TV cameras and residents from across the city in front of him.
Mayor Daley said the federal government must increase its fight against drug and gun trafficking. Neither the guns nor the drugs originate in Englewood; they cross international borders and end in the neighborhood, he said. He also urged support for legislation that would limit gun purchases to one a month and ban assault weapons.
"We want to see all of you two months from now. We want to hear from you two months from now in Englewood," said Alderman Thomas, one of five aldermen that represent the Englewood neighborhood.
After the media statements, marchers wound down several streets, passing the block where the White family was preparing for Siretha's funeral, which attracted hundreds of people, and ended up on the steps of the home of Denise Reed, Starkesia's mother. Anti-drug chants and calls for residents to come out of their homes echoed in the streets along the way.
Finding solutions to problems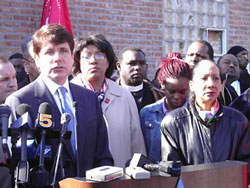 Clergy and local politicians must go to the state capitol to lobby for passage of an assault weapons ban, insisted Reverend Walter Johnson, of Wayman A.M.E. Church in Cabrini Green. "These AK-47's were never made for anything other than killing innocent people," he said.
"It's really important for us to unite across the city to get involved to make sure that every community and every neighborhood is safe," added Rev. Johnson, who grew up in Englewood.
Others welcomed the statements by the governor and mayor, but noted that Englewood residents have worked for over a year to craft "The Making A Difference In Quality of Life Plan In Englewood."
Johnnie Muhammad, an organizer with Teamwork Englewood, explained the plan seeks to analyze the underlying causes of violence and other problems. It outlines programmatic responses, with multi-year financial commitments from the McArthur Foundation, he said. It includes 46 different projects, with 10 strategies for redevelopment, in the areas of economics and jobs, housing, public safety health and recreation, community life, and arts and culture. Community residents co-chair working groups and evaluate project progress, he explained.
The mayor, governor and others said positive things about what generally needs to occur in a community like Englewood, Mr. Muhammad said, noting however that all violence is not gang and drug-related. If the diagnosis is off, money may be spent on areas that don't address the real causes, he observed. Some resources may be needed to generally show youth ways to resolve conflict without violence, he said.
'We struggle around here every day'
"These mothers' pain, I feel it. I live it every day. Every little bit helps, things like this help," shared Latonya McClendon, standing in front of the Reed family home. The Roseland neighborhood resident marched to show support for the Englewood mothers who lost their children. Her son was beaten to death on his 17th birthday.
"It's not about all the cameras and the newspapers, it's about the mothers. If nobody else can do this, us mothers can, because a mother's love is indescribable," stressed Ms. McClendon, who provides grief counseling and turned her pain into a ministry. The deaths of young Black males often get less attention because of stereotypes, she pointed out.
There was tension outside the Reed home as counter-demonstrators with bullhorns blasted the mayor, police and pastors for neglecting the Englewood community, which has more than its share of poverty, unemployment and failing schools.
Joseph Watkins, of V.O.T.E. (Voice of the EX-Offender), was one of those critical voices. Besides crooked cops involved in drug and gun-dealing and efforts to push Blacks out as gentrification sweeps across the city, Black politicians, pastors, businessmen and other prominent people have failed to do anything for poor people, ex-offenders and youth, he contended.
Millions are going to be spent in Black neighborhoods and people could have been trained for jobs, but the city didn't do it, Mr. Watkins said. Out-of-touch politicians need to give resources to groups doing real grassroots work, he advised.
"They're targeting the wrong things. These kids are not the problem, it's the administrators, the ones that oversee and bring these things into our community. That's what the problem is," he said.
"We struggle around here every day and don't nobody come over here and help us. They don't know what's going on. Ask one of these drug dealers why they out here selling drugs. They want to eat, they need somebody to help them!" said Latricia Lee, a 22-year-old Englewood resident, fed up with the neglect.
"I'm scared my baby is going to die," she said, pointing to a toddler nearby. "This ain't just started. It's the whole Black community; it's not just Englewood. Don't just help one, help everybody," she sobbed.