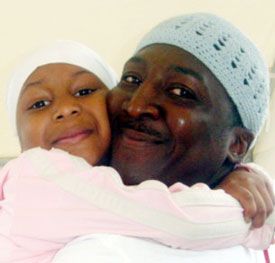 NEW YORK (FinalCall.com) – Autumn Ashante may be only seven years old, but she knows just exactly what she wants, and what has to be done to get there.
"I want to meet Mother Tynnetta (Muhammad). She is my hero," revealed Autumn during a telephone interview with The Final Call. When asked what was so special about Mother Tynnetta, the child prodigy answered without hesitation: "Because her words are so powerful."
Autumn speaks three languages and reads the Holy Qur'an in Arabic. She also wants to meet the Honorable Minister Louis Farrakhan. "I admire Minister Farrakhan's mind and his will and what he thinks," Autumn stated. "And he is very strong."
Speaking of strength, when Autumn stood before her audience from the Peekskill middle and high schools Feb. 28, the last day of Black History Month to recite her poem which compared Christopher Columbus and Charles Darwin to pirates and vampires that robbed Blacks of their identity, it took a lot of strength.
The prelude to her poem: the recital of the "Black Child's Pledge" of the Black Panther Party.
I will discipline myself to direct my energies thoughtfully and constructively rather than wasting them in idle hatred. I will train myself never to hurt or allow others to harm my Black brothers and sisters for I recognize that we need every Black Man, Woman and Child to be physically, mentally and psychologically strong.
"I was very concerned about the violence that has been happening between the Black and Latino youth, and I wanted my poem to give them something to think about other than the negative," Autumn told The Final Call. Her poem, entitled "White Nationalism Put U in Bondage," caused quite a furor.
"Black lands taken from your hands by vampires with no remorse. They took the gold, the wisdom and all the storytellers. They took the Black women, with the Black man weak. Made to watch as they changed the paradigm of our village… White nationalism is what put you in bondage: pirates and vampires like Columbus, Morgan and Darwin drank the blood of the sheep, trampled all over them with steel, tricks and deceit…"
Some White students walked out. Parents received a recorded message that apologized for the poem. The New York Post reported that Autumn was "unofficially" banned from performing in the school district, but that has been denied by a school official in a story that appeared in the Amsterdam News.
"Autumn was aware that there had been a violent confrontation at the school the day before she appeared between the Black and Latino students, and she wanted to give them something that would stop them from wanting to kill each other," explained Autumn's father, Batin Ashante.
Autumn, who has been home-schooled for the past two years, told the New York Post, the newspaper that broke the story, "I don't think there's anything wrong with my poem. I was trying to tell them the straight-up truth. I'm trying to tell them not to fight because they're killing the Brothers and Sisters."
When asked why she felt so strongly about the violence, she explained, "Like the Honorable Elijah Muhammad said, there is no time for this."
Mr. Ashante has raised Autumn by himself since she was 11 months old. He explained that his daughter has always had a thirst for knowledge and began reading at the age of two. "She has always had a notebook nearby, and she is always writing in it," he shared.
Autumn has appeared at the Apollo Theater, the African Burial Ground in lower Manhattan, BET, C-Span and a 2003 performance before the New York City Council that brought a standing ovation. She had been brought to the city council by Brooklyn Councilwoman Yvette Clarke.
"I want to foremost declare my unquestioned support for Autumn Ashante," the councilwoman said in a press release shortly after the Post published its story.
"I have, on several occasions, had the opportunity to meet and speak with this gifted child. I have been so impressed with her oratorical skills and poetic recitations."
Photo: Courtesy, the Ashante family