New Orleans: a city still in need of repair, a people still in great despair (FCN, 01-25-2006)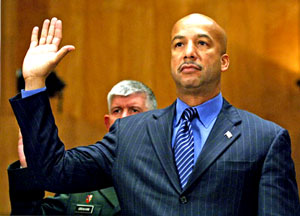 NEW YORK (IPS/GIN) – The U.S. Federal Emergency Management Agency (FEMA) turned down a request from the state of Louisiana for 300 rubber rafts to help rescue stranded victims of Hurricane Katrina because FEMA did not think this type of craft was "appropriate for the environment."
The Louisiana Fish and Wildlife Department asked the Louisiana National Guard for the use of five buses to evacuate patients from New Orleans hospitals, but was told it had to fill out paperwork to validate authorization.
The New Orleans' Office of Emergency Preparedness "had no plan, no resources and no leadership," a city police captain charged.
These were some of the revelations that emerged from a U.S. Senate hearing on what went wrong before, during and after the monster storm and flood devastated much of the U.S. Gulf Coast last August–and how it could be fixed.
The Jan. 30 hearing was part of a four-day series held by the Senate Homeland Security and Governmental Affairs Committee, which has complained about the George Bush administration's refusal to hand over documents it has requested.
Pres. Bush recently denied the allegation that he was stonewalling the committee and pointed to thousands of pages of documents his administration had provided.
One of the committee witnesses, William Lokey, FEMA's point man on the ground during the hurricane and its aftermath, said he was unaware of the state's request for rubber rafts. He also said he did not know that hundreds of federal search-and-rescue workers and large numbers of boats, aircraft, bulldozers and 400 law enforcement personnel were offered to FEMA by the U.S. Department of the Interior (DOI) in the hours immediately after Hurricane Katrina hit. The aid offer was either ignored or not effectively used.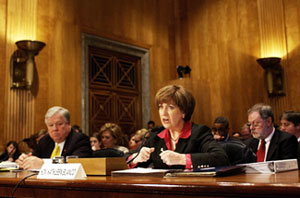 DOI assets included more than 300 boats, 11 aircraft, 119 pieces of heavy equipment, 300 dump trucks and other vehicles for clearing debris, as well as DOI-owned campgrounds and other land that could be used as staging areas or for emergency shelters.
The agency's Fish and Wildlife Service and National Park Service also offered teams specially trained for urban search-and-rescue missions using flat-bottom boats.
The Washington Post reported that it took nearly a month for FEMA to put any of these assets to work.
Committee Chair Senator Susan Collins (R-Maine) said failure to respond to the Interior Department offer was indicative of "systemic failure" at all levels of government and "a total lack of coordination."
Mr. Lokey and other witnesses attributed much of the pre- and post-Katrina chaos to the magnitude of the storm and subsequent flooding, lack of planning for such a major natural disaster, and the virtually total breakdown in communications among and between local, state and federal authorities. All of the four witnesses appearing before the committee said they heard about the levee breaks on a local radio station.
A New Orleans police captain, chosen to lead the early search and rescue effort, told the committee he had no boats, no information and no plan from his superiors. He said he was operating in complete isolation from other search and rescue units.
Despite such problems, the search and rescue operation–particularly the work of the U.S. Coast Guard helicopters–received high marks from the committee. Its senior Democratic member, Senator Joseph Lieberman of Connecticut, praised the life-saving work of the search and rescue teams, many of which had come to New Orleans from other states.
FEMA's Lokey, while acknowledging that many mistakes had been made, said his agency "rose to the occasion and saved thousands of lives." He added that FEMA is giving top priority to planning, organizing and equipping for the 2006 hurricane season.
"We are participating in a very comprehensive after-action review," said Russ Knocke, spokesman for the Department of Homeland Security (DHS), which oversees FEMA.
Months before Katrina, DHS conducted a training exercise known as Hurricane Pam. Its results proved to be an accurate forecast of what would happen if New Orleans were hit by a Category 4-5 hurricane, including breaches of the city's levee system. But there was no apparent effort by FEMA to take any action steps following the exercise.
Pres. Bush has said that the magnitude of the hurricane was not known before it hit the Gulf Coast. However, the head of the National Hurricane Center says he sent a dire warning to the White House situation room two days before Katrina made landfall.
Pres. Bush has also promised to rebuild New Orleans, and Congress has appropriated billions to get the job done. But the actual delivery of funding is apparently ensnared in bureaucratic red tape as well as in partisan political wrangling.
Thousands of displaced New Orleans residents are angered by what they describe as a frustrating paper chase through the bureaucracy; for example, FEMA demanding documents that are drowned in flooded houses.
FEMA has received thousands of mobile homes for residents whose houses were destroyed by Katrina, but most of them are still sitting empty in areas distant from where they are needed because of confusion about where they can legally be located.
A number of private contractors have been charged with fraud for a variety of schemes to cheat Gulf Coast homeowners, and two FEMA employees are facing federal bribery charges for accepting $10,000 each for letting a contractor inflate the number of meals served at a Katrina relief camp.
Private and government agencies have also been criticized for a lack of planning for Katrina. Most prominent is the American Red Cross, whose director recently resigned in a disagreement with the organization's board of directors.
Katrina and Hurricane Rita, which followed, left more than 281,000 Louisiana residents–14 percent of the workers in the state–without jobs and created a stampede of unemployment filings that threatens to bankrupt the state's unemployment trust fund, according to the New Orleans Times-Picayune newspaper.
The paper said that, as of last October, Louisiana residents had filed 281,745 hurricane-related claims for unemployment benefits, more than the 193,000 claims filed in all of 2004, according to figures released by the state Department of Labor. The number of filings was 13 times what is normally filed in a seven-week span.