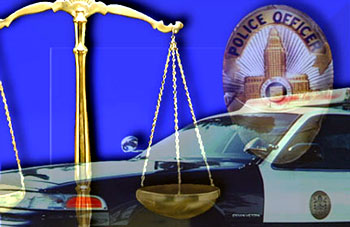 LOS ANGELES (FinalCall.com) – The Los Angeles Police Department's (LAPD) Board of Commissioners ruled four to one Jan. 31 that Officer Stephen Garcia acted out of policy when he shot and killed 13-year-old Devin Brown during an early morning traffic stop Feb. 6, 2005.
According to community activists, the unprecedented ruling followed two decisions that followed the usual response to "use of force" incidents. First, Los Angeles District Attorney Steve Cooley announced that he found no evidence that Ofc. Garcia acted criminally, therefore, he would not be prosecuted or face any charges. Subsequently, LAPD Chief William Bratton declared that Ofc. Garcia acted appropriately and recommended to the five-member Commission that he receive no discipline.
The final phase of the incident moves to the Policeman's Board of Rights to determine what, if any, discipline Ofc. Garcia would receive. The board consists of two police officers and one civilian.
"I am confident that I can speak for my fellow Commissioners, that our review of this case has been exhaustive, conclusive and has left no stone unturned. Personally, this has been one of the most difficult decisions I have ever made," stated Police Commission President John Mack during a Jan. 31 Commission meeting. "In the end, I feel, as my fellow Commissioners do, that each of us made our decisions based on our best understanding and careful objective analysis of the facts, without prejudging the actions or motives of the officer."
Mr. Mack is also a retired president of Los Angeles Urban League. During his tenure, he fought often against police brutality, and maintained to all throughout the Brown investigation that the newly formed panel was not a "rubber stamp" for Chief Bratton, the LAPD or Mayor Antonio Villaraigosa.
"I think it's a start that they ruled against the so-called establishment. It brings to mind that recently a former policeman killed a mountain lion that was in his yard. The man was inside his house, but threatened by the lion outside. He had a lot of options besides killing it, and that lion defense is used all the time when dealing with us," stated Rory Flynn, a reparations advocate and co-founder of Reparations Now.
Like the Community call to Action and Accountability (CCTAA), Mr. Flynn advocates changing policy instead of faces in leadership within police and sheriff departments.
According to Pres. Mack, several LAPD policies have been changed or added as a result of the fallout of the incident. Police are prohibited from shooting at or firing into a moving vehicle, but are allowed only if their life is in danger. All police officers receive additional training in tactics to be utilized at the end of a pursuit. Previously, officers were trained to assume a protected position behind the open door of a patrol car when a pursuit comes to an end, but due to the unpredictability of the actions of a pursuit, police are now trained to move away from the patrol car. The LAPD now utilizes the Pursuit Intervention Technique, or bumping the corner of a suspect's car to turn and stop it. The LAPD is also probing a vendor for approximately 25 shooting simulator devices that will be distributed to all 19 police areas and training facilities, to help with training with various scenarios.
Nation of Islam Western Regional Minister Tony Muhammad, who also serves as co-chair of the CCTAA, called the ruling a step in the right direction, but not cause for celebration.
"Even if they decided that Ofc. Garcia was out of policy, it's not a victory for us because he's not prosecuted to the full extent of the law. The Commission's four-to -one vote suggests what we have been saying all along: He was not directly behind that car, even when it accelerated," Min. Tony maintained. "Ofc. Garcia fired the first shot, and if the youth who ran had not jumped out of that car, we would talking about two murders, not one."
The CCTAA observed the anniversary of the youth's murder with a press conference Feb. 6 and candlelight vigil the following day. Min. Tony informed that the CCTAA is seeking a federal investigation on Devin Brown, as well as a systemic problem within the LAPD.
"Today, we ask for the firing of Chief Bratton, who has the mindset of a White, racist supremacist, who is hiding behind the badge," he charged during a Jan. 31 CCTAA gathering at Bethel A.M.E. Church.
Reverend Lewis Logan II, Bethel's presiding pastor and CCTAA co-chair, urged the gathering, "It is time to end the brutalization on ourselves, and turn to each other, not on each other."
The group reminded the community that as it has been vigilant against unjust police murders of Black and Latino youth, it must also be relentless in demanding that gang members stop their killing. Min. Tony informed that three gang truces have been called since the state-sanctioned murder of Stanley "Tookie" Williams, Crips co-founder-turned-peacemaker.
Despite the absence of a prosecutorial victory, observers, including politicians, grassroots activists and Pres. Mack, noted that the CCTAA has much to be acknowledged.
After attending to Devin's family and his memorial service, which drew thousands of mourners to Bethel A.M.E. Church, the community established the CCTAA to strategize and mobilize toward justice for Devin, and to work more strategically and aggressively toward ending all murders of Black and Latino youth. For 52 weeks, the CCTAA consistently conducted its Tuesday night meetings, marches and prayer vigils for others murdered along the way, and attended Commission meetings to ensure that "Justice for Devin Brown" remained on its agenda.