By George Curry
-Guest Columnist-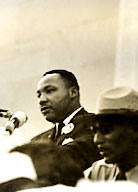 Few people in history have been as dedicated to civil rights as Dr. Martin Luther King Jr. In an interview with Playboy magazine, he noted that he worked 20 hours a day, traveled 325,000 miles a year, giving 450 speeches. That grueling schedule alone was enough to take a toll on Dr. King and his family life. But more mentally and physically taxing was a vicious, unrelenting stealth campaign by FBI Director J. Edgar Hoover to harass Dr. King.
Mr. Hoover suspected that Stanley Levison, a King adviser, had Communist ties, and used that as a pretext to smearing Dr. King.
Writing in his Pulitzer Prize-winning book, "Bearing the Cross," David Garrow noted: "FBI officials focused upon Levison's ongoing involvement with Dr. King's and SCLC's affairs, and in early October renewed their entreaties to Robert Kennedy about the serious security threat represented by Levison's role and King's refusal to sever the relationship. Their warnings received a sympathetic hearing by the attorney general and Robert Kennedy felt compelled to take the step that the FBI had been recommending since midsummer: the wiretapping of King's home and office in Atlanta."
Mr. Garrow wrote, "Ever since the wiretaps on King's own home and office were added in November, the supervisors of the King-Levison investigation had been turning their attention more and more to King's private life and away from their previous fixation on his supposed Communist ties.
"At a mid-December conference, Bureau officials discussed in detail how they could gather further evidence of what they felt were King's serious personal and moral shortcomings, and had resolved that if they could, they would use such material to expose King 'as an immoral opportunist' and 'clerical fraud.'"
In "At Cannan's Edge," the last of his trilogy on the Civil Rights Movement, Taylor Branch recounts how the FBI used former Massachusetts Sen. Leverett Saltonstall to prevent Dr. King from receiving an honorary degree from Springfield College, derailed an effort by Dr. King to obtain a loan for SCLC from labor leader Jimmy Hoffa and, even more troubling, decided not to inform Dr. King of imminent threats on his life.
"Hoover revised internal communications about the latest threats to kill King if he marched on Tuesday in Selma–one via the Secret Service about two alleged gunmen out of Detroit, another about a killing squad from the Coushatta, Louisiana, Ku Klux Klan–and vetoed plans to give a routine warning to King," wrote Mr. Branch, who won the Pulitzer Prize for "Parting the Waters," his first civil rights book.
The author continued, "'No,' Hoover scrawled on one memo, and on another ordered agents 'not to tell King anything.' He reminded top officials of a previous order to exclude King from the standard advisory to the targets of threats, and explicitly confined FBI notice to Sheriff Clark and other local authorities of dubious protective value."
Mr. Hoover detested Dr. King and resented his suggestion that the FBI did not aggressively investigate the murderers of civil rights activists. He would later describe Dr. King as "the most notorious" liar in America.
Mr. Branch writes, "Richard Harwood disclosed in the Washington Post that FBI officials had offered to reporters tape-recorded evidence of 'moral turpitude' on King's part. No other news outlet would touch the cryptic revelation, which Harwood buried among equally sensitive suggestions that Hoover had become a pampered tyrant with homosexual leanings."
Perhaps, the most disgusting act in a series of disgusting acts, the FBI tried to get Dr. King to commit suicide.
An anonymous threatening letter and copy of tape recordings were mailed to Dr. King at his SCLC office in Atlanta.
"There is but one way out for you," the letter said. "You better take it before your filthy, abnormal fraudulent self is bared to the nation."
David Garrow writes, "King and his aides had little doubt about the origin of the package: J. Edgar Hoover's FBI. The material on the tape–dirty jokes and bawdy remarks King had made a year earlier at Washington's Willard Hotel, plus the sounds of people engaging in sex–had obviously been acquired by bugging King's hotel rooms."
Mr. Garrow recalls a conversation between Dr. King, his wife Coretta and activist Dorothy Cotton.
"Quiet at first, Martin suddenly spoke up, his wife remembered. ''I've told you all that I don't expect to survive this revolution; this society is too sick.' And, of course, Dorothy said, 'Oh, Martin, don't say that.' And he said,
'Well, I'm just being realistic.' Coretta recalled that she 'had heard him say it several times before … He had an awareness of what could happen to him, and he … was not able to forget about it because he lived with this constantly."
Dr. King also lived with the constant harassment of his own government.
(George Curry is editor-in-chief of the NNPA News Service and BlackPressUSA.com. He may be contacted through his website at www.georgecurry.com.)