By George Curry
-Guest Columnist-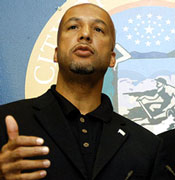 New Orleans Mayor Ray Nagin opened himself up for a torrent of criticism when he declared in a Martin Luther King Day speech that God wants New Orleans to again be a "chocolate city."
In his speech, he said, "It's time for us to come together. It's time for us to rebuild New Orleans–the one that should be a chocolate New Orleans."
He added, "This city will be a majority African American city. It's the way God wants it to be. You can't have New Orleans no other way. It wouldn't be New Orleans."
Under fire, Mayor Nagin backed away from his comments.
It's easy to criticize him for his choice of words or for professing to speak for God–and many have done just that. But that's the easy way out.
What's missing in the discussion about rebuilding New Orleans is a candid exchange about race. Of course, race is not the primary issue when pondering New Orleans' future. The paramount issue is one of safety and providing protection against future hurricanes in the below-sea-level city. But in deciding how to rebuild New Orleans, race becomes a salient factor, intended or not.
Prior to Hurricane Katrina, New Orleans had the fifth-highest concentration of Blacks among major cities, according to the Census Bureau. With 84 percent, Gary, Ind. led the nation in that category, followed by Detroit with 81.6 percent, Birmingham, Ala. at 73.5 percent, Jackson, Miss. with 70.6 percent and New Orleans, with Blacks representing 67.3 percent of the population. The other leading chocolate cities were Baltimore (64.3 percent), Atlanta (61.4), Memphis (61.4 percent), Washington, D.C. (60 percent) and Richmond, Va. (57.2 percent).
Mayor Nagin isn't the only person suggesting that New Orleans should maintain its chocolate majority. Secretary of Housing and Urban Development Alphonso Jackson, an African American, predicted that New Orleans will become more vanilla-like. And even those who profess to want a Neapolitan city–similar to the equal stripes of chocolate, vanilla and strawberry in the brick-shaped block of ice cream–know that under current plans, vanilla will become the dominant flavor of the city.
Whatever the final product, race should be openly debated. New Orleans will, in effect, become a planned community and race should be part of that planning. New Orleans, like most major U.S. cities, has a largely segregated public school system that grew out of largely segregated residential patterns. If the city can be revived in a way that leaves no racial group isolated from important resources and services, Hurricane Katrina could be a blessing in disguise. However, if the unstated plan is to rid the city of its Black majority, then everyone should return to the drawing board.
On Jan. 22, the New York Times carried a candid headline: "In New Orleans, Smaller May Mean Whiter." That kind of candor and directness needs to be injected into the discussions about the new New Orleans.
The Times article observed: "Indeed, race has become a subtext for just about every contentious decision the city faces: where to put FEMA trailers; which neighborhoods to rebuild; how the troubled school system should be reorganized; when elections should be held. Many blacks see threats to their political domination in reconstruction plans that do not give them what they once had. But many whites see an opportunity to restore a broken city they fled decades ago."
It's an opportunity for Blacks and Whites to come together and determine what will be best for the city. But they can't do that by ignoring the elephant in the room–race.
(George Curry is editor-in-chief of the NNPA News Service and BlackPressUSA.com. He may be contacted online via his website at www.georgecurry.com.)