FCNNEWSSOURCE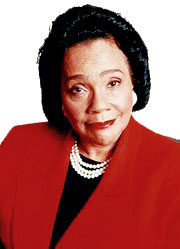 (FinalCall.com) – Flags were lowered half-mast Jan. 31 at the King Center for Nonviolent Social Change in Atlanta, in recognition of the loss of Coretta Scott King, who passed away in her sleep overnight in California. She was in California receiving rehabilitative care for a stroke and heart attack she suffered in August 2005.
At 78, the widow of slain civil rights leader Dr. Martin Luther King Jr. will be remembered for her graceful strength and commitment to her husband's work, particularly after his assassination in 1968. In her autobiography, "My Life with Martin Luther King Jr.," she recalled, "Because his task was not finished, I felt that I must re-dedicate myself to the completion of his work."
She founded the King Memorial Center two months after Dr. King's assassination, which today houses archives containing more than 2,000 King speeches and is built around the King crypt and its eternal flame.
Nurturing their four children as well as her husband's legacy, Mrs. Coretta Scott King balanced motherhood with her work in the movement.
She received a B.A. in Music and Education from Antioch College in Yellow Springs, Ohio, and continued her studies with concert singing at Boston's New England Conservatory of Music, where she earned a degree in voice and violin. She met Dr. King while in Boston, as he was then studying for his doctorate in Systematic Theology at Boston University.
Married in 1953 in her parent's home in Marion, Ala., they moved to Montgomery the following year, where Dr. King became involved in the historic bus boycott that propelled the Civil Rights Movement to the forefront of the consciousness of the country and world.
Utilizing her training in music, she conceived and performed a series of "Freedom Concerts" that combined prose and poetry narration with musical selections, which became fundraisers for the Southern Christian Leadership Conference. Her many travels with her husband to promote justice, equality and peace would continue throughout her life, taking her around the globe.
Her official biography concludes: "A woman of wisdom, compassion and vision, Coretta Scott King has tried to make ours a better world and, in the process, has made history."