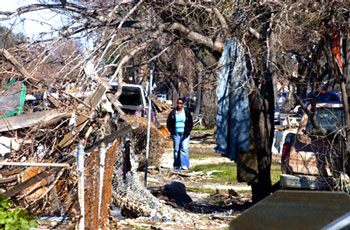 NEW ORLEANS (FinalCall.com) – For three days, a diverse collective of leaders, activists and professionals convened here during a special initiative aimed to take back Dr. Martin Luther King Jr.'s legacy of fighting for social justice, by drawing attention again to the Hurricane Katrina disaster and its impact on hundreds of thousands of Blacks, poor people and people of color in the city and Gulf region.
Successfully providing for many an opportunity to receive firsthand information from residents and activists on the ground, the initiative was held in various venues in the city Jan. 12-14. The Institute of the Black World in the 21st Century organized the initiative, with co-sponsorship provided by the African American Leadership Project, Millions More Movement Local Organizing Committee and the People's Hurricane Relief Fund, all local organizations.
"We must draw our collective minds to create critical mass to achieve objectives," explained Ron Daniels, president of the Institute. "The national Black community has to decide that we drew the line in the sand in New Orleans. The issues in this city are mirrored everywhere, so if we hit here, all the other issues come into perspective."
Helping to draw that line in the sand were over a dozen national organizations that included the Association of Black Sociologists, National Association of Black Nurses, National Black Leadership Commission on AIDS, National Medical Association, National Black Alcoholism and Addiction Council, National Black Police Association, Nation of Islam, New Black Panther Party, Black Farmers and Agriculturalists Association, National Association of Black Social Workers, National Black United Fund, National Coalition on Black Civic Participation, and Coalition of Black Trade Unionists.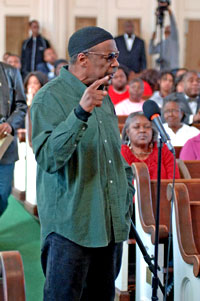 The initiative opened with the two-day "Rebuilding and Redevelopment Conference" Jan. 12-13, wherein civic leaders and experts, city planners, local officials, policy analysts and representatives from national organizations explored concrete strategies to confront the barriers facing evacuees to restore their lives. Discussions revealed the lack of available utilities, such as lights, gas and water, pervasive in the city; the role that the monopoly of Intergy has played in limiting the choice of city officials in providing energy to its residents; the absence of a list of contact information for the evacuees displaced throughout 44 states that can facilitate their organization and proper dissemination of information to them; cases of suicides of evacuees and the critical need to provide mental health services and counseling to them; the lack of transitional and temporary housing; the mounting debris and environmental toxins; and the controversial redevelopment plan to "shrink the footprint" of the city by demolishing Black areas that were completely devastated by floodwaters.
Conference participants concluded their working sessions to attend the congressional field hearing of the Subcommittee on Housing and Community Opportunity on Jan. 13, which was followed by a Martin Luther King Ecumenical Right of Return Service that evening.
"When you read about what the plans are for this community by people who don't understand us, as African people, I am trying to control my anger," shared Dr. Leonard Dunston, president of the National Association of Black Social Workers, during a town hall meeting held Jan. 14, after a tour of the Lower Ninth Ward that morning. "How they can figure out ways not to bring our people back to their rightful place says volumes of the racism of this country. I am a very angry, angry…" he added, before tearful emotion overcame him.
Dr. Dunston also served as co-convener of the Millions More Movement Black Family Summit along with Minister Farrakhan, which originally met in Washington, D.C., on Oct. 14, 2005. Participants of the summit reconvened at the conclusion of the initiative as a wrap-up of the initiative to debrief the weekend, the strategies developed and action plans to be implemented.
Among the many issues that confront evacuees are cancelled local elections originally set for February.
"There does not seem to be a great civic determination to hold elections, but to hold the Mardi Gras celebration, or open schools, but to evict people from hotels to confirm and validate a social caste system that excludes us," charged Jacque Morial, the younger brother of the former mayor Marc Morial, who now serves as the head of the National Urban League. "The civic determination is to shrink the footprint, to transform this city into something different, that disrespects our culture, heritage, and our special and unique place in it," he added.
Dr. Edward Blakely, chair of the Department of Urban and Regional Planning at the University of Sydney-Australia, who has over 20 years experience in rebuilding cities, observed with confidence that there is no community in New Orleans that cannot be rebuilt, but stressed that the full structure of communities must be rebuilt, not just physical buildings.
"We certainly don't need timelines from FEMA on when to get out. We need timelines on when to return. Within four months, we can rebuild the entire city, easily.
This group that we have assembled here can, will and is able to help this city rebuild better than it was ever done before," he maintained.
Instead of considering rebuilding block by block, Angela, from the Survival Collective, suggested that we consider family by family.
"We are still looking for each other across this nation," she said. "It's going to take the Brothers to call the Brothers back home," she added, noting that evacuees are having trouble getting employed in other cities, because employers are afraid that they are going to return to New Orleans.
Ms. McAfee, a schoolteacher who spoke during the town hall meeting, revealed that the jobs of public school teachers are threatened, not simply because children have not returned so schools have not reopened, but also because charter schools have been opened.
"You do not need to be licensed to teach in a charter school," she informed, after distributing a fact sheet that stated that "all teachers with the exception of those working at three schools operated by the school system and some employed by charter schools, will be terminated on January 31.
On another practical note of survival, Osiris X of the New Black Panther Party, explained the work he has undertaken in partnership with several other organizations, to form a model for a Black Emergency Response Team (BEMA) on regional levels.
"We have to put boots on the ground. It is time for us to organize our own survival teams, because no one is going after our people," he insisted. "Stop waiting for other people to save us. Next hurricane season is on its way."