FCNNEWSSOURCE
FCN Special Coverage – New Orleans: a city still in need of repair, a people still in great despair (FCN, 01-25-2006)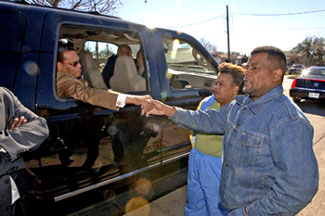 As the "head" of the United States government, President George Bush has shown very poor leadership skills in his remarks during a recent visit to the Gulf Coast area. Interestingly, CNN discontinued broadcasting his statements while he was sitting on a panel in New Orleans after airing the segment only a couple of times. Perhaps, an editor was keen that the president's observations that he was pleased to see the "dramatic changes" in a city that has always been a place of "great food" and "fun" would elicit nothing but great derision in the face of complete and utter devastation that remains in the largely Black neighborhoods of the city.
What subtly underlines his comments, however, is the push to clean up the city's marketing image, rather than its streets and parishes, so that the mighty tourist dollars can be lured in for Mardi Gras. Kicking evacuees out of hotels evidently is the first mandate, as many hotels are telling them that they no longer honor their vouchers as the FEMA deadline dreadfully looms on the Gulf Coast horizon.
How comforting can it be for the residents of New Orleans to know that in the coldness of their homeless night, they have a leader sleeping in the White House who is more conscious of offering sound bites to promote a decadent festival than he is on offering comforting words coupled with sound relief efforts that can promote their permanent recovery?
With leadership like this, it is no wonder the Congress is impotent in effecting a solid infrastructure to deliver much-needed services. Attitude reflects leadership. With leadership like this, it is no wonder that the children of the White elite living in the well-to-do Lakeview area of New Orleans protested during his recent visit. High school students of the Academy of the Sacred Heart wore life vests and tape on their foreheads marked with the words "water line" to demonstrate against the failures of Pres. Bush in the hour of need of New Orleans residents. Attitude reflects leadership.
If this is a Judeo-Christian country, why is New Orleans Mayor Ray Nagin ridiculed in the press for acknowledging that the anger of God lies at the root of the wrath of the hurricanes, when throughout the Bible, we are given story after story of the anger of God expressed in natural disasters? Politicians do not have to be ministers, but when did separation of church from state equal separation of state officials from God?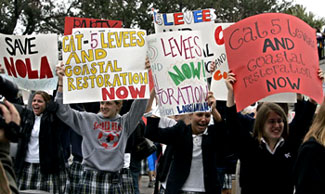 In its narrow path to diminish the power of spiritual leadership in the day-to-day order of society, the government has disallowed itself the greatest source for solving seemingly insurmountable problems: divine love. Not romantic love, but a divine love that is the creative force that sustains life in this world. With leadership of this kind, creative solutions can be discerned in the haze of the pain of tremendous loss and trial. By underestimating the power of divine love, those who do not recognize God–and even work against what is true, right and fair according to universal principles of freedom, justice and equality–live without one of the greatest resources of life.
That is why Allah (God) is the Best of Planners, because people who cannot reside in divine love cannot fathom what love will make someone else do, so they can never account for the effect that acting out of love will produce in a situation.
The leadership of President George Bush is mired in greed and lust for power and control. In stark contrast, no matter what is said or written, the Honorable Minister Louis Farrakhan is a leader that is moved by no other motive than love. He offers considerable comfort to those suffering in the slightest gesture, and his ability to personally develop, and inspire others to develop, creative solutions from his wisdom is remarkable. With leadership like this, attitude reflects boundless success.