President Denis Sassou Nguesso succeeds Obasanjo as AU chairman
African Union opens with plea for peace, economic development (FCN, 01-23-2006)
Khartoum, Sudan (PANA) – African leaders Tuesday elected President Denis Sassou Nguesso of Congo Brazzaville as the next African Union (AU) chairman, to succeed Nigerian President Olusegun Obasanjo, who led the Union for 18 months.
Nguesso's election on the second day of the AU summit here followed the recommendation by the committee of seven States – Egypt, Botswana, Burkina Faso, Djibouti, Nigeria, Tanzania and Zimbabwe – set up by the summit Monday.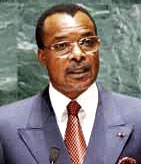 Kenyan Foreign Minister Raphael Tuju told PANA, the summit made the decision after Sudan, which had put up a spirited campaign for the post, was told it could get the chair next year, after it undertook to resolve the Darfur crisis and Khartoum's row with Chad.
Nguesso takes over from Obasanjo whose 18-month tenure was marked by "active diplomacy" involving trouble-shooting shuttles, according to observers.
"There was consensus by the committee of seven countries and Sudan had already withdrawn its candidature before the committee made its choice," Tuju said, denying that Sudan was pushed to accept the verdict.
"If there is a problem then you do not need to load the chairman with the problem. You need to let him free to solve the problem instead of giving him such demanding roles like chairing the Union," the Kenyan Minister added.
Diplomatic sources said Sudan's election to the AU chair at this moment could have impacted negatively on the Addis-Ababa-based continental organization.
In its reaction, Sudan said it was not bitter with the decision and was looking forward to leading the Union in 2007.
Information and Communications Minister Azhawi Ibrahim Malik said his country's main concern at the moment was the success of the summit.
"Sudan will push ahead with its resolve to serve its responsibilities," he told journalists. "Our problem in this is not going to be Darfur.
We will have to solve this Darfur crisis, and we have nothing to be ashamed of. We are able to solve our own problems and we must solve
them now."
The next AU Summit is scheduled for June in Banjul, Gambia.