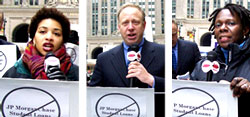 (FinalCall.com) – The Restitution Study Group, a New York non-profit devoted to securing reparations for slavery, called for a boycott December 5 of these banks' student loans–which earns JP Morgan Chase over $9 billion a year as the number one student loan lender.
As part of the campaign, students and reparations activists on campuses around the country are distributing flyers entitled, "Ten Reasons Why Students Should Boycott JP Morgan Chase Student Loans."
"JP Morgan Chase amassed enormous wealth off the backs of enslaved Africans," explained Attorney Deadria Farmer-Paellmann at the press conference and rally at JP Morgan Chase headquarters in New York. She is the head of the Restitution Study Group and lead plaintiff in a case for reparations pending in the 7th Circuit Court of Appeals in Chicago.
"It (JP Morgan Chase) participated in institutionalized terrorism, genocide, rape, torture and theft of humans. It owes us restitution, but refuses to pay," she argued. "It has left us no choice but to boycott."
Atty. Farmer-Paellman has become a consistent voice for slavery restitution. In 2000, she launched the movement for corporate restitution when she exposed that Aetna Inc. wrote life insurance policies on the lives of enslaved Africans with slaveowners as the beneficiaries. In 2002, she filed the landmark reparations case against corporations, which is currently on appeal. The lawsuit demands the creation of a humanitarian trust fund to heal the injuries descendants of slavery suffer today as a result of slavery, such as urban poverty, inadequate health care, and lost housing, employment, educational and business opportunities.
According to Atty. Farmer-Paellmann, there is extensive evidence linking the bank to the enslavement of over 14,250 Africans. When the bank was forced to reveal its complicity in slavery or lose lucrative vendor contracts with the city, due to the Slave Era Disclosure Ordinance passed in Chicago, Ill., it admitted that 13,000 enslaved Africans were used as collateral for loans from the bank and that they had owned another 1,250 enslaved Africans.
"JP Morgan Chase is tone deaf on the issue of race," Carl Mayer, special counsel to the plaintiff, told The Final Call. "They've offered $5 million is scholarships as restitution. JP Morgan Chase makes $5 million every hour. They made $50 million in revenue last year. What they're offering is a pittance."
"Students have a choice where they get their student loans. They can use credit unions or other financial institutions. When more understand this, more students will join the boycott."
Divine Shabazz, a graduate student at Southern Connecticut State University in New Haven, understands this and has joined the boycott. "This is a brilliant plan to show us how lenders are steeped in slavery. We want to show students how close this is to home. They're taking blood money that is drenched in the horrors of the slave trade," he told The Final Call.
"We have options. In Connecticut, we have 25 other options of lenders," he added. "We're taking this message to the Black Student Associations, African Student Associations, fraternities, sororities and local chapters of the NAACP."
For many students, though, choosing a student loan lender is easier said than done. "They're just happy to be in college. They just want to know if they can get enough money to stay in college. They're thinking about the hopelessness of not being able to return," Mr. Shabazz explained. "Students need to know about this, but their parents control so much of their lives that the parents need to be educated, too."
One parent in Connecticut, known as "Three-Fifths" is going around talking to students about this issue. "They have options that their counselors may not tell them about. Student loans are a serious issue, especially since the Supreme Court passed a law that student loans can be taken from a person's social security," he said, referring to the Dec. 7 U.S. Supreme Court ruling that the government is allowed to seize up to 15 percent of a person's Social Security benefits to pay old student loans.
The Restitution Study Group not only wants a boycott, but they also are demanding that Elliott Spitzer, the Attorney General of New York State, as well as attorney generals in the other 49 states, hold hearings to find out exactly what JP Morgan Chase's role was in the institution of slavery, what their profits were and what those profits are worth today.
"We want to bring the CEO before a grand jury and, under penalty of perjury, have him reveal what their profits were from slavery," Atty. Farmer-Paellmann informed.
Atty. Mayer further pointed out that, back in 1831 when JP Morgan owned enslaved Africans, $5 million amounted to about $400. "This means that in this bank's opinion, the life of each slave is worth roughly 33 cents. That's an outrage in terms of what they're offering to deal with this litigation," he asserted.
Donna Lamb contributed to this article.