FCNNEWSSOURCE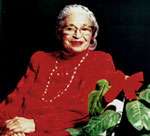 TRIPOLI, Libya (FinalCall.com) – Libya's Muammar Gadhafi, leader of the Libyan Revolution and referred to by the Libyan people as the Great Thinker and the spirit of the African Union, honored the Mother of America's Civil Rights Movement, Rosa Parks, on the 50th anniversary of her historic stand December 1.
Minister Abdul Akbar Muhammad, international representative of the Honorable Minister Louis Farrakhan, along with representatives from the Caribbean, Africa and ambassadors from throughout the world gathered in Tripoli for this historic tribute to Ms. Rosa Parks by an African leader.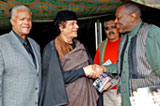 Minister Farrakhan arranged for the Libyan foreign ministry to invite Judge Adam A. Shakoor, the first Muslim judge in America, to join the Libyans in paying tribute to Ms. Parks. Judge Shakoor is a co-trustee of the Rosa L. Parks Trust, along with Elaine Steele, who is responsible for Minister Farrakhan speaking at Ms. Parks' funeral.
This historic occasion was closed out by the Secretary-General of the Libyan People's Committee, the Honorable Said Gadhafdan. Brother Muammar Gadhafi invited Min. Akbar and Judge Shakoor for a private meeting to discuss a wide range of topics about the Civil Rights Movement in America and the struggle for justice of the Black and Native Americans. The discussion focused on Condoleezza Rice, Colin Powell and other visible Black leaders that he felt should do more in shouldering the responsibility of the plight of Black people in America. He mentioned Minister Farrakhan's work with the Millions More Movement and how it would impact on the social needs of the masses inside of America.
Related links: