JIM.LOBE
Iraq Under Occupation (Al Jazeera)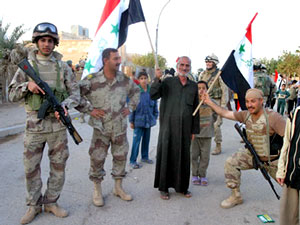 WASHINGTON (IPS/GIN) – While the Bush administration tries to persuade the public that an accelerated buildup of Iraqi security forces will permit substantial numbers of U.S. troops to begin returning home next year, recent reports from Iraq suggest that the security forces and their sectarian make-up are themselves contributing to the country's destabilization.
A spate of articles in the mainstream U.S. media since the discovery in recent weeks by U.S. troops of a secret underground prison in the Iraqi Interior Ministry, where some 170 Sunni Arab men and boys had been subjected to torture and ill-treatment, have detailed the existence of death squads in the largely Shiite police and special commandos operating with their support.
"Hundreds of accounts of killings and abductions have emerged in recent weeks, most of them brought forward by Sunni civilians, who claim that their relatives have been taken away by Iraqi men in uniform without warrant or explanation," the New York Times reported Tuesday.
"Some Sunni males have been found dead in ditches and fields, with bullet holes in their temples, acid burns on their skin, and holes in their bodies apparently made by electric drills. Many have simply vanished."
The motives for the abductions are mixed, according to the reports. In some cases, they appear directed against suspected insurgents or their supporters. In others, they seem designed to "ethnically cleanse" certain neighborhoods. In still others, they appear aimed at achieving revenge for decades of discrimination and repression by the Baathist regime, which generally favored Sunni citizens.
In any case, the repression that is now directed against the Sunni community by the police, commandos and their sectarian auxiliaries threatens the Bush administration's newly-touted plans to reduce the U.S. military presence from nearly 160,000 to less than 100,000 troops over the next year. The Bush plan is to rapidly expand the size and capabilities of Iraq's security forces to fight the largely Sunni insurgency on their own.