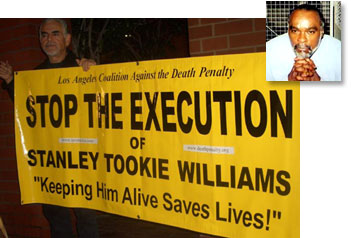 SANTA MONICA, Calif. (FinalCall.com) – After the U.S. Supreme Court denied peacemaker and Nobel Peace Prize nominee Stanley "Tookie" Williams' appeal October 11, and the State of California set an execution date for December 13, approximately 50 gang interventionists and anti-death penalty activists took to the streets Nov. 5 in front of California Governor Arnold Schwarzenegger's Schiatzi restaurant and cigar bar to protest the ruling and the death penalty.
"We cannot be in the stands or in the parking lot, we have to get on the field with this matter. We have to run a good race, fight and organize, because if this becomes a reality, it will affect not only Tookie's life, but our lives as well," stressed Stan Muhammad, co-founder of Venice 2000, a gang intervention and prevention organization.
Unthreatened by the five uniformed police officers that monitored the event a few feet away, the protesters continued to chant, "Save Tookie Now! Murder by the state is legal lynching hate!" and "Not one execution more. It's racist. It kills the poor!" They gathered petition signatures, handed out flyers and displayed fact sheets and books authored by Mr. Williams. The items included his memoir "Blue Rage, Black Redemption," and "Children and Gangs," which is a series of books penned with his editor, advocate and friend Barbara Becnel.
"We're hoping that the governor will do the right thing and spare Stan's life, so that he can continue to do the outstanding work that saves humanity, work that he's been doing for the past decade," Ms. Becnel stated. "Other than being a little sleepy, he gets up very early, he is in very good spirits and it's because, he says, he has absolute faith in God. He knows that he is innocent of the crimes for which he was convicted and has faith that God will not allow him to be executed for crimes that he did not do, and a criminal justice system that demonstrated the worse in America's history, both in racism and the administration of justice, as well as prosecutorial and police misconduct," she shared about his condition.
Stanley Williams' children's books were designed to educate youth and steer them away from gangs, but in the process they also garnered him five Nobel Peace Prize nominations and, most recently, a presidential commendation from George W. Bush. The books are utilized in classrooms worldwide, including Milan, Italy, where Ms. Becnel informed that officials are creating 300,000 postcards addressed to Gov. Schwarzenegger, requesting that he grant clemency for Mr. Williams.
A Crips youth gang co-founder, Mr. Williams was convicted in 1981 of killing four people during two L.A. robberies, for which he sits on death row today. According to a Stanley Tookie Williams Fact Sheet, he had never been imprisoned or convicted of a felony before that time.
Alison McKenna, a community activist and social work clinician who utilizes Mr. Williams' books, opined on how that could be: "A Black person is 19 times more likely to get the death penalty for killing a White person than a White person is for killing a Black person. Stanley 'Tookie' Williams redeemed himself, the system did not do anything for him," she stated.
She added that the protesters' call for a state moratorium on the death penalty stems from statistics showing that innocent people have either been killed or released from death row, many of them Black men.
Laini Coffee, a cultural and community activist, said that although prosecution evidence screamed innocent, Mr. Williams is indeed guilty of something greater in the eyes of the system seeking his death. "He is guilty of saving lives, of outreach, of gang intervention and prevention, of empowering young Black men to put down the colors and pick up a book," he charged. "If you look at the systematic injustice of our criminal, educational and economic systems, anytime you intend to uplift the ethnically cultural community, you will find our community leaders being ostracized."
Danielle Heck, co-chair of the Campaign to End the Death Penalty's L.A. branch, announced a variety of reasons she believes Mr. Williams deserves clemency. "His trial is a prime example of the kind of injustice that Black men receive in this society. He is innocent. There is no physical evidence linking him to the crimes that he was convicted of. The only evidence that a racist court in Torrance had to look at was testimony by jailhouse informants who were given the case file to look over before they testified against him. As a result, their charges were reduced," she argued.
Ms. Heck continued that Mr. Williams is a prime example of a man redeemed, pointing to the estimated 150,000 youth testimonies that he helped prevent them from entering gang violence and changed their lives.
The protest preceded national and international movements held to save the peacemaker. Future events scheduled include:
Nov. 16
* "Save A Peacemaker's Life/Countdown to a Legal Lynching" demonstration and press conference outside the Los Angeles District Attorney's office.
Nov. 19
* 10 am San Quentin Youth Rally
* Watts Towers Rally at noon
* Demonstration and Press Conference on the occasion of World Cities Against the Death Penalty at Los Angeles City Hall
Nov. 30
* March to Governor Arnold Schwarzenegger's office
Dec. 4
* Noon march, rally at Leimert Park
* 7 p.m. rally as part of a National Day of Action to Stop the Execution of Stanley "Tookie" Williams
(For more details on Nov. 14-21 actions to save Stanley "Tookie" Williams, visit savetookie.org, tookie.com or visit nodeathpenalty.org.)