FCNNEWSSOURCE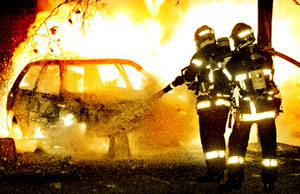 PARIS – Rioting by Black and Arab youth around Paris for over two weeks has turned into a nationwide rebellion against racial and social segregation and repressive police action.
Youth, mostly from the Maghreb countries and sub-Saharan Africa, set fire to more than a thousand vehicles, several supermarkets, and public buildings including schools and sport facilities. Vehicles were burned in the center of Paris for the first time since the beginning of the unrest. Similar violence broke out in other cities including Marseille, Rennes, Nantes, Lille, Lyon, Strasbourg and Toulouse.
On Nov. 9, a 12-day state of emergency went into effect, along with limited curfews, and local authorities were instructed to deport any individuals convicted for their involvement in the worst rebellion seen in the country in the past four decades. More than 2,000 people have been detained so far.
A 50-year-old law that bans gas stations from selling gas in jerry cans was revived, causing critics to charge the government with putting a measure in place that dates back to the Algerian war of independence against colonial France.
The unrest began Oct. 27, after two immigrant children–one of Mauritian descent and the other from Tunisian descent–died accidentally in a high-voltage electricity facility in Clichy-sous-Bois, a poor district northeast of Paris. Rumors spread that the police were chasing the children, which sparked the rebellion from angry youths.
While the police denied these rumors, the police reacted with force, in one instance hurling tear-gas grenades into a mosque. Most residents of the Parisian outskirts where the unrest began are Muslims. Many residents perceived these actions as provocative.
Minister for the Interior Nicholas Sarkozy's remarks, calling violent youth "scum," also provoked further violence, several experts say. "Sarkozy's choice of words makes me think of the rhetoric used by military police in racial dictatorships, and of regimes practicing ethnic cleansing," Hugues Lagrange, social researcher at the independent Paris Observatory of Social Change, told IPS.
Mr. Lagrange said extreme poverty, high unemployment and the racial segregation that hinders immigrant access to jobs lay at the heart of the rebellion. Instead of dealing with these issues, Mr. Sarkozy is stirring up unrest "to establish tighter electoral links with a populist right-wing extremist population," he said.
Mr. Lagrange pointed out that one of Mr. Sarkozy's first measures as minister of the interior was to disband a special police unit created by the former Socialist government in 1997 to maintain close contact with youth organizations to prevent any outbreak of violence.
"The duty of police officers is to chase criminals, not to play soccer with them," Mr. Sarkozy said at the time.
Deep political divisions have emerged over the violence. Neo-fascist leader Jacques Bompard and the right-wing nationalist Philippe de Villiers have urged the government to call in the army to suppress the rebellion. Mr. De Villiers said the rebellion is proof that the French model of integration "has clearly failed."
On the other hand, local Muslim leaders say Mr. Sarkozy must be fired. They said in a statement that, after the attack on the mosque and Mr. Sarkozy's abuse of youth, they "do not consider Sarkozy an appropriate negotiation partner."
President Jacques Chirac indirectly condemned Mr. Sarkozy's response. "The law shall be firmly applied, but in a spirit of respect and dialogue," Pres. Chirac had said.
But opposition leaders and several commentators are urging Pres. Chirac to throw Mr. Sarkozy out of government. "Sarkozy is an arsonist pretending to be a fireman" ran the title of an editorial comment in the leftist newspaper L'Humanite.
Noel Mamere, leader of the Green Party, called Mr. Sarkozy "a danger for French democracy, a danger destroying rapidly the year-long integration efforts carried out by social workers and organizations in the field." He said if Mr. Sarkozy does not resign, "the government must kick him out."
Christian Pfeiffer, a German criminologist who has been researching youth unrest in Europe, said, "Sarkozy's behavior is absolutely unacceptable."
Mr. Sarkozy has refused to apologize. "I cannot understand why people make such a fuss about words, but ignore the reality of riots and crimes," he said. He said the riots had been "carefully organized … by criminal mafias and by religious extremists."
Mayors and social workers all over France are calling for a major plan to develop low-income districts to avoid future explosions of violence. Jean-Marie Bockel, mayor of Mullhouse in the northeast, has called for "a Marshall plan for our districts."
–Wire reports