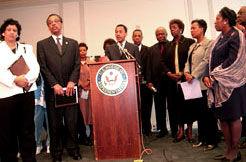 WASHINGTON (FinalCall.com) – Relief for Hurricane Katrina victims must not be forgotten, says the Congressional Black Caucus (CBC) and a broad coalition of national civil rights groups. Representatives of dozens of groups rallied at the Capitol Nov. 10, demanding that the Gulf Coast be fully restored, and that the residents of the Gulf Coast be reunited with their families.
The U.S. government failure to adequately respond to the disaster is a "sin," according to one CBC member.
All 42 House members of the CBC united on Nov. 2 to jointly introduce legislation called "The Hurricane Katrina Recovery Act," (HR 4197), intended to address the devastation wrought by the hurricane.
"One of the things we realized during Katrina was how easy it is for our people to be forgotten," Rep. Elijah Cummings (D-Md.) told The Final Call after a unity rally on Capitol Hill. The CBC had come together with a number of organizations, to say to the hurricane's victims: "We have not forgotten you, number one.
"And we're going to make this country not forget the people, both Black and White, and other races, who suffered and who continue to suffer." Mr. Cummings continued, "If you restore the homes of Whites, you've got to restore the homes of African Americans."
"It is America's sin," Rep. Sheila Jackson Lee (D-Texas) told The Final Call, "because it is not the natural disaster, not Hurricane Katrina, but the sin is the complete failure of the federal government to come to the need of her people. And we must repent. That smear on America's fabric and soul will never be extinguished, but we can at least try now to find a way to ease the pain," continued Rep. Jackson Lee, who also lamented over the loss of national attention to issues concerning Hurricane Katrina.
In addition to a Victim Restoration Fund, HR 4197 would require environmental provisions, health provisions and provisions for housing and community rebuilding, education and voting rights.
CBC Chairman Melvin Watt (D-N.C.) and several CBC members were joined by Bruce Gordon, NAACP president; Stephanie Jones, executive director of the National Urban League Policy Institute; Dr. Michael Lomax, president of the United Negro College Fund; Reverend Ronald Braxton, senior pastor of Washington's Metropolitan A.M.E. Church; and New Orleans Katrina survivor Voncile Johnson, according to a CBC statement.
"Two months ago, within days after Hurricane Katrina struck, the National Urban League called for a Katrina Bill of Rights which guaranteed the right to recover, return, rebuild, work, and vote to the displaced residents of the devastated Gulf Coast region," Urban League President Marc Morial, said in a statement. "We are gratified that HR 4197 includes many of the recommendations contained in the Katrina Bill of Rights, including voting rights guarantees, local resident hiring goals, and a victims' restoration fund modeled on the 9/11 fund that Congress authorized immediately after the 2001 attacks."
"Many of these provisions will help families in Alabama, Louisiana and Mississippi and throughout the country who, in the aftermath of Katrina, are seeking to balance on the precarious razor's edge poverty creates," Marian Wright Edelman, president of the Children's Defense Fund, said in a statement. "We must seize this opportunity to do what is morally right and help lift these vulnerable children and families to a place where they can lead the lives to which they are entitled."
"We must never, ever, ever, never, ever forget the faces of our people, as they begged for a piece of bread and begged for a glass of water," Rep. Cummings told The Final Call. "Now it's time for us to make sure we do everything in our power to make them whole."