By Janelle Richards and
Nisa Islam Muhammad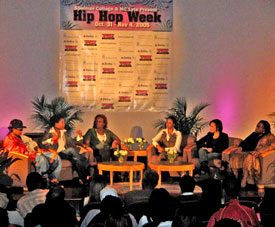 ATLANTA (FinalCall.com) – Last year, the young women of Spelman College started a national conversation against the denigration of Black women in the music industry. After viewing rapper Nelly's "Tip Drill" video, Spelman students Aisha Jennings and Moya Bailey were fed up with the images of women and could no longer withstand the silence. They organized a panel discussion of 150 students in protest of his scheduled visit, and decided Nelly wasn't welcome at Spelman.
This year, the school and Rapper MC Lyte joined forces to bring "Hip Hop Week" to the all-female campus. From Oct. 31-Nov. 4, students tackled the subject of the impact of hip hop in urban, suburban and rural communities and the exploitation of women in the music industry.
Freshman Kristin Kelly, a Philosophy major, said that, "Hip Hop Week allowed us, as young adults and Black women, to explore hip hop; more than just the music videos and beats, but the culture and history, as well."
The week included panel discussions, an open mic session for aspiring artists and a film screening of "Masculinity in Hip Hop" by Byron Hunt. The male panel discussion, which was hosted by MC Lyte, featured actor/musician Malcolm Jamal Warner, Rapper Chuck D, actor Darryl "Chill" Mitchell and Spelman Professor William Jelani Cobb.
Somewhere between the powerful and poetic lyrics of Tupac and the arrival of new "artists," hip hop has evolved into a "rap" movement that glorifies violence and degrades women, many students observed. Hip hop was once on a nurturing road to grow and move the masses, but something created an obstruction, they stressed.
The week continued with an all-female panel discussion. Artists MC Lyte, Cheryl "Salt" James, Da Brat, Yo Yo, cultural critic Joan Morgan and Spelman Professor Tarshia Stanley came together to battle opinions of the exploitation of women in the music industry.
MC Lyte stated that as a female, "you have to stay true to yourself and speak up, don't wait around until it's too late." Salt agreed with MC Lyte, stating that you have to always "rep yourself and be proud. Owning your own image is important." Ms. Morgan explained that, "the world views African American women as lazy and sexualized."
Since rap artists often get the blame for the exploitation of women in music videos, students asked MC Lyte her opinion about who was to blame for this exploitation. "The exploitation is disgusting. Everyone has a responsibility for it, not just the artist. The females, the director, there are women producing these videos," MC Lyte responded. "But no one is saying anything. Stand up!"
She insisted that young Black women must "act with class, dress with class. We have to be aware of our surroundings and the image the media constantly gives off about us."
Dr. Stanley said that youth today cannot "underestimate the power of talking, especially to each other. Social movements begin when a change has to happen."
After attending the panel discussions, Spelman freshman Heather Winfield, an English major, said, "I am willing to make that change. I think that old hip hop should be publicized for our generation. Youth have to understand that rap can be about positive things, not just guns, cars and females."
What advice did the panelists have for rising artists?
"Surround yourself with people whom you can ask questions. Be original, conscious, and come from the heart," said MC Lyte. "Don't just be another rapper sayin' a whole bunch of nothing."
They all agreed that, most importantly, the students must give their all, not just enough to get by or get over.