GINNEWS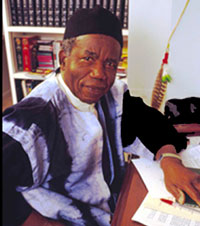 (GIN) – Nigeria's celebrated novelist Chinua Achebe has called on contemporary African writers to give priority to their mother tongue, in order to lessen the negative consequences of colonialism on African arts and culture. He also called for the revival of Africa's dying oral traditions of storytelling, which he considers unique. The Panafrican News Agency quoted the world famous author recalling that his generation of African writers, because of their education, wrote in the language of the colonial masters, in his own case English, since Nigeria was colonized by Britain.
"It looked as if we had a choice but, in reality, there was no choice," said Mr. Achebe, whose epic novel "Things Fall Apart" (1958), which has been translated into many widely spoken languages, depicts the confrontation between African and Western cultures using his native Igboland in eastern Nigeria as the setting. He was speaking on a BBC arts program called "The Ticket."
The Laureate, of many international literary prizes and awards, admitted that he and his colleagues were victims of "language colonialism," because the colonial administrations ensured that the colonized people lived, worked and communicated in the language of the colonizers. But in this post-colonial era, he said, the old trend must be reversed so that Africa does not continue to lose its rich arts and cultural heritage. Starting with himself, he said he had made sure that seven of his famous poems were translated into his native Igbo language. On Africa's threatened oral traditions, widely used in pre-colonial times, he said while "written, televised or photographed" traditions had evolved, Africans must not allow oral traditions to die.
The 75-year-old African literary giant lives in the United States, where he teaches and continues to add to his growing list of literal works.