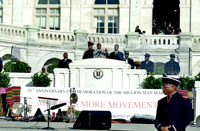 WASHINGTON (FinalCall.com) – The Millions More Movement, October 15, was the successful culmination of more than a century of failed attempts by Black people to unify and do something for self.
"We have seen an unparalleled number of Black leaders of organizations come together to speak to America and the world with one voice," said the Honorable Minister Louis Farrakhan in front of the nation's Capitol. "This has never happened before in the world. A new day is dawning in America, starting with our unity. This is more than a moment in time."
That new day includes the unity of groups and organizations that previously had operated in their own sphere of influence. The music world joined with the world of politics who joined with the New Black Panther Party who joined with the National Urban League who joined with the New Afrikan Peoples Organization who joined with the Progressive National Baptist Convention.
It was a who's who of Black organizations. But the most significant aspect was the coupling of unlikely bedfellows.
Where could you go previously to see Dr. Maulana Karenga, the founder of Kwanza and the United Slaves (US) organization speaking on the same platform as Congressman Mel Watt, Chair of the Congressional Black Caucus?
Or what about seeing rapper Jim Jones of the Diplomats on the same stage as classical pianist Mother Tynnetta Muhammad, wife of the Honorable Elijah Muhammad?
What about seeing great Black women like Dr. Dorothy Height, economist Dr. Julianne Malveaux, Essence Communications Editor Susan Taylor and opera singer Brenda Jackson on the same stage at the 10th Anniversary Commemoration of the Million Man March?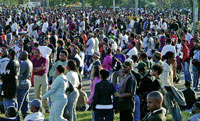 "I bring you greetings on behalf of 2.5 million Progressive National Baptists," said Dr. Major Jemison, head of the religious group. "This is a special moment in the lives of African Americans. With our voices, talent, minds and God on our side, it is imperative that we give back to the least, last, lowest and left out. We have to develop a giving spirit."
It was a day to see the coming together of professionals interested in the priority issues facing Black people like family, health, education, spiritual, economic, labor and housing.
It was a day to celebrate the elders like Dr. Dorothy Height, president emeritus of the National Council of Negro Women, musician Harry Belafonte, historian Dr. Yusef Ben Jochannan, activist Dick Gregory and Coretta Scott King, wife of Dr. Martin Luther King Jr.
It was also a day to see what Nation of Islam National Youth Minister Michael Muhammad called the answer to reducing Black crime.
"If Bill Bennet really wants to reduce Black crime, then he needs to see this," he said, scanning the crowd and pointing to the massive numbers of Black people extending down the National Mall. "Our unity drastically reduces Black crime. We'll be here all day with our minds on unity and crime will go down all across the country. We need the Millions More Movement."
It was a day to see rival gangs at peace with one another.
"This wasn't just about dignitaries and groups coming together," 25-year-old Haki Muhammad of Washington, D.C. told The Final Call. "Most people didn't notice that the gangs came together, too. There were Bloods here, members of the Black Mafia family, Crips and MS13 coming together in peace."
For those who had been there 10 years ago, it was the culmination of wishes and wants.
"I was here for all of them," rapper Doug E. Fresh told The Final Call. "The first one was life changing because it had never been done before. The second one, the Million Family March was powerful. This one is an extension of everything with a strong agenda. It's what we've been waiting for."
It was a day to see activist youth receive the torch of leadership from activist elders.
"This is the young generation," said MMM National Youth Director Brother Hasaun, pointing to the group standing with him. "Not only are we going to inherit the torch, we're going to take it over."
Atlanta University Complex Student Council Chief-of-Staff Jennifer Reid told the crowd, "I challenge every young person to take on the mantle of leadership like your parents raised you to do."
Where else but the Millions More Movement could you go and hear Erykah Badu tell the crowd, "I want for you and me to stand in direct opposition to negativity. You are the one with the power to change this world. This is the beginning of the new world."