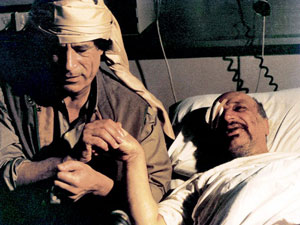 TRIPOLI, Libya (PANA) – Libyan leader Colonel Muammar Gadhafi has called on the Arab League to make arrangements with the parties concerned to set up an international commission of enquiry into the death of Palestinian leader Yasser Arafat, an official source said here Sunday.
"After the results of analyses have demonstrated that President Arafat was poisoned, I am calling for the setting up of an international commission of enquiry to identify the perpetrators of the death of Abou Ammar (Yasser Afarat)," Gadhafi said in letters addressed to Algerian president and Arab League chairman Abdelaziz Bouteflika and Amr Moussa, the League's secretary general.
A Palestinian ministerial commission published a report affirming that President Arafat was infected with the deadly ailment that caused his death following a dinner in October 2004.
Afarat died in November 2004 in a Paris military hospital where he was taken as his condition declined in Palestine.
Related news:
The character assassination of Yasser Arafat by western media (FCN, 11-17-2004)
Yasser Arafat, 1929-2004 (The Electronic Intifada, 11-10-2004)