By Richard Muhammad
The Millions More Movement (MillionsMoreMovement.com)
WASHINGTON (FinalCall.com) – Baba Hannibal Afrik, a longtime community leader, had two words to describe what victims of Hurricane Katrina face. "Complete devastation," said the 71-year-old-activist, who lives in Gibson, Miss.
"With no money, no insurance or the insurance company not going to compensate them, it is inconceivable that they are going to be able to rebuild their lives without some significant assistance. And I don't see that significant assistance coming," he said. Baba Afrik toured the Third Ward and Eighth Ward in New Orleans and is helping grassroots organizations rebound to serve flood victims.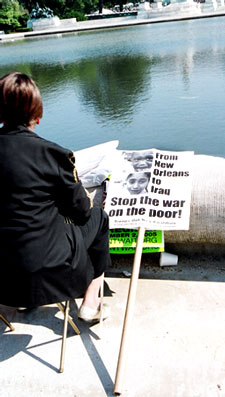 But standing a few hundred yards from the U.S. Capitol Building, he wasn't in despair or without hope. He was clear about the need for Blacks to care for one another and buoyed by the announcement of a Millions More Movement hurricane disaster relief fund.
"There has been a lot of discussion as to whether or not it would have been worthwhile to go through with the Millions More Movement today in light of Katrina. But by having the rally today heightens now the consciousness of our Brothers and Sisters around the country," he said.
He called the decision by Minister Farrakhan to make the plight of hurricane victims the centerpiece issue another example of great leadership. "I think that message will inspire more of (the flood victims) because they believe in Minister Farrakhan and they believe the gathering today is now committed through the Katrina relief fund to have ongoing support," said the activist, who went to damaged areas with Minister Farrakhan during a pre-march tour. He also worked in Chicago for many years before moving to Mississippi.
Baba Afrik's comments were typical of the response from Black leaders, thinkers and everyday people who listened Oct. 15 as the Millions More Movement speakers devoted a portion of the program to the hurricane, its impact and what Black America must do in response.
Minister Farrakhan called for a class action lawsuit charging the Federal Emergency Management Agency and Department of Homeland Security with criminal neglect and urged Blacks to donate $1 a week to a fund for hurricane victims.
"Black folks should understand that there are certain forces that are operating in this country that just don't care about them. It's a reality. We can't change it, so we need to think about the lessons that we learned from the Honorable Elijah (Muhammad) to do for self, work for self, and we need to uplift our mighty race," said State Representative Rodney Hubbard, from St. Louis. The 32-year-old Sunni Muslim has been in office three-and-a-half years. He worked with a local housing project to provide housing, clothing and social services to New Orleans residents displaced by the flood.
"Katrina revealed the contradictions of our nation and how its priorities are out of whack. We can drop bombs on Baghdad very quickly, but we can't drop food and medicine into New Orleans five days into a catastrophe," said Damu Smith of Black Voices For Peace. "It was important Minister Farrakhan and others made linkages between government neglect and ineptitude in the Katrina crisis and spending billions of dollars that could be spent to shore up those levees. Instead, that money is being spent to kill and maim Iraqis and U.S. soldiers."
"These twin evils of race and class that we are abrogating our responsibility to do something on, threaten to tear this country apart at its very fiber. This hurricane challenges us to do something about these issues of race, class and extreme poverty," said broadcaster Tavis Smiley, who also voiced support for legal action charging government agencies with neglect.
The event was also an opportunity for activists to spread information about continued efforts to keep a spotlight on hurricane victims.
Rev. Jesse Jackson called for the Millions More Movement to support an Oct. 29 march in Baton Rouge, La., as part of a fight for jobs, job training, rebuilding contracts and land reclamation. "Last week, the secretary of HUD, Alphonso Jackson, speaking for the administration, said New Orleans would not be majority Black again anytime soon. The population will go from 70 to 35 percent and Black wards would not be rebuilt," Rev. Jackson noted.
Such demographics would have negative implications for Black political power in city government, the House and Senate, he warned.
"Hurricane Katrina survivors have gone through a lot without adequate assistance from FEMA. We are holding these institutions like FEMA and Washington accountable," said Sangita Nayack, of the Praxis Project. Her group is working with the People's Hurricane Relief Fund, a coalition of grassroots organizations in the Gulf Coast, pushing for family reunification, a victims compensation fund, a say in decisions about reconstruction spending, jobs in the rebuilding effort and transparency in the reconstruction process. The coalition has marches planned for Dec. 10 in Jackson, Miss., and Dec. 10 in New Orleans.