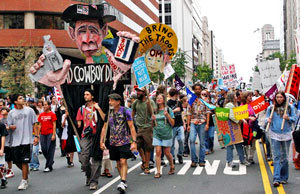 THE WHITE HOUSE (FinalCall.com) – Led by "Gold Star" mothers like Cindy Sheehan, whose children have been killed in the Iraq war, tens of thousands chanted, "Not One More!" Sept. 24 during the largest protest demonstration since the U.S. invasion in March 2003.
It was called "Operation Ceasefire," an all-day protest march and rally, along with an evening concert. The music–from Bob Marley to Arrested Development, to African drummers on the scene–combined with sober messages from speakers made the occasion feel like "Woodstock at the West Wing."
Although President George Bush was not inside, sharpshooters on the White House roof kept a watchful eye on the rally-stage and crowd, which eventually grew to 250,000 on the Ellipse, a half-mile away.
"We need a people's movement to end this war," said Ms. Sheehan, as she urged her supporters to turn up their wrath on Congress. "We're going to ask them, how many more of other people's children are you willing to sacrifice for the lies? Shame on you for giving (Mr. Bush) the authority to invade Iraq."
From the Ellipse, protesters marched through a light rain around the White House and along Pennsylvania Avenue, some veered off to register their protest of the World Bank and International Monetary Fund, whose annual meetings were being held in offices nearby.
Despite delays in New York, where all Washington-bound train traffic was suspiciously halted for several hours at 6 a.m. the morning of the rally, as well as local subway delays into the city, Washington train and subway stations were jammed, and more than 1,000 buses arrived from 300 cities, including New York, Philadelphia, Baltimore, Boston, Detroit, Chicago, Cleveland, Atlanta, Birmingham, Charlotte, Gulfport, Miss.; Eau Claire, Wis. and Des Moines, Iowa for the massive protest.
The rally featured speakers including former U.S. Attorney General Ramsey Clark; Rep. Cynthia McKinney (D-Ga.); actress Jessica Lange; British Parliamentarian George Galloway; Reverend Al Sharpton; Anita Dennis, mother of an Iraq war veteran/resister; and human rights attorney Lynne Stewart, among others.
The protest was diverse. There were posters of Malcolm X to students holding signs that read: "College, Not Combat!" "Make Levees, Not War," "I never thought I'd miss Nixon" and "Iraq is Arabic for Vietnam."
There were veterans of previous anti-war demonstrations, as well as currently serving military personnel in uniform. Others carried signs that read: "Impeach Bush!" and "Thank you, Cindy!"
Protestors sought to drive home the painful cost of the Iraq conflict in human and economic terms. They memorialized dead U.S. troops and Iraqis, and contrasted the cost of prosecuting the war with the price of recovery for areas battered by hurricanes Katrina and Rita.
"This whole assault was built on deliberate lies, not misinformation, not poor intelligence," Mr. Clark charged. "They knew damn well what they were doing. They wanted to do it and they did it.
"Every moment of this invasion, which takes the lives of Iraqi people, every day is an illegal occupation. We, as Americans, have the highest responsibility because we live here. This is our country. We love it. We want to take it back. We want to end militarism in this country. And end aggression, and end the occupation of Iraq now!" he continued, urging that Mr. Bush be impeached by Congress for "crimes against humanity" in the form of the U.S. "war of aggression" in Iraq.