FCNNEWSSOURCE
Millions More Movement Convener, Minister Louis Farrakhan speaks on the rebuilding of New Orleans; ending envy among Black leadership and the need for a movement that transcends class, religion, ideology and gender.
Webcast of Minister Louis Farrakhan's Message (MillionsMoreMovement.com)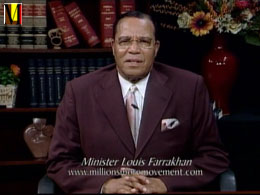 (FinalCall.com) – In a just released special broadcast, Millions More Movement Convener, Minister Louis Farrakhan explains the purpose and objectives of the October 15th Millions More Movement in Washington, D.C. Providing a detailed context , Minister Farrakhan makes the case for a Million Man March Anniversary commemoration and a new movement in light of hurricane Katrina, the socio-economic condition of Black America and the need for a voice to represent the poor.
The special audio/video broadcast has been made available online at: http://www.millionsmoremovement.com/news/mmm-message.htm
Ten years ago, the historic Million Man March brought nearly two million men to the Nation's Capitol and demonstrated the willingness of Black men to atone to God for shortcomings as men, husbands and fathers and, a willingness to reconcile differences at home, school, church, organizations and in the society in general. An increase in Black male voter participation and thousands of adoptions following the March was directly attributed to the successful event.
Endorsed by a wide diversity of groups and individuals such as the Congressional Black Caucus, the Worker's Movement, Russell Simmons, the New Black Panther Party and the National Council of Negro Women, organizing for the Millions More Movement has brought together over 100 leaders and organizers who have agreed to serve as co-conveners.
"For the first time in our history, those of us of different ideologies, philosophies, methodologies, denominations, sects and religions, political and fraternal affiliations have come together to create the Millions More Movement. Each of us have agreed to work together for the benefit of the whole of our people," stated, Minister Farrakhan.
For more information, visit http://www.millionsmoremovement.com