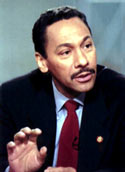 WASHINGTON (FinalCall.com) – As part of the Congressional Black Caucus' (CBC) Annual Legislative Conference Sept. 21-24, the group conducted a dialogue with religious leaders on how to respond to hurricanes Katrina and Rita.
"It shouldn't take a disaster to have us focus on the intersection of race and poverty," said CBC Chair Mel Watt (D-NC). "The people who couldn't get out were just too poor. They couldn't go anywhere. This is a condition they faced, not just in the face of a hurricane, but every day."
"The press is saying, 'You aren't together in your response.' But that's not true. We are organized and we met at Howard University. We had to do this. A broad section of us came together."
On Sept. 14, a coalition of Black leadership organizations convened to address concerns regarding the challenges confronted by Hurricane Katrina. The group said relief efforts should also take into consideration the growing poverty crisis in the Gulf region and other parts of the United States.
"We want to make sure that, going forward, there are safeguards to assure that people displaced by Hurricane Katrina will be the first in line to get jobs rebuilding the affected areas," said Bruce Gordon, president and CEO of the NAACP. "In addition, we want President Bush to see that there are safeguards to assure equity in the distribution of rebuilding funds and that minority contractors have a fair chance to be awarded some of the work that will be necessary to rebuild New Orleans and other affected communities."
Rep. Watt called on the audience to give their support and the power of their voices to these efforts. The group wants to give immediate attention to two areas: transitional housing to bring people back to the area to live, and a victims' compensation fund patterned after the 9/11 compensation package. A major concern repeatedly voiced at the meeting was the distribution of the millions of dollars donated to the American Red Cross.
"How many Blacks are making decisions at the Red Cross? There's only one and he works in Human Resources. We need to focus on the American Red Cross," said Rep. Bobby Rush (D-Ill.). "We need to call them into a room and make them put Black people in charge of distributing the resources to our people. We need to make that the agenda and get something done next week."
Many Black organizations have raised large sums of money, but refused to give it to the Red Cross. Instead, they choose to organize and distribute the funds themselves.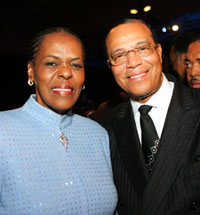 To a thunderous applause, the Honorable Minister Louis Farrakhan came to the podium, after being introduced by Rep. Elijah Cummings (D-Md.) "Out of everything filled with darkness, there is light present if we can see it. Whenever there is a tragedy, there is an opportunity for triumph. What God has given us in this tragedy is an opportunity for a great work," Minister Farrakhan explained. "The sacrifice of human life is necessary to bring advancement in every field of human endeavor."
He further explained how the deaths from diseases such as polio and cancer have brought about the medical advancements people enjoy now, as well as the medical research underway.
"Race and poverty was shown up so clearly by Katrina. It was a wake-up message to those who think everything is alright because it's all right with us," he said.
"The Millions More Movement will focus on Louisiana, Alabama and Mississippi. We will bring together every resource to solve the problems there, as a template for solving the problems of poor and oppressed peoples everywhere."
The CBC has expressed their encouragement of the 10th Anniversary Commemoration of the Million Man March. In a meeting July 20, the group met to collectively render their support.
Rep. Watt told reporters that the CBC is determined to become involved before and, most importantly, after the Commemoration to ensure that the Millions More Movement is an ongoing movement that addresses the concerns of our people.
During his remarks, Minister Farrakhan emphasized to the group the need to be organized. He made the analogy of how Hurricane Katrina grew from a tropical storm to a Category 4 Hurricane. "It organized and grew stronger," he pointed out. "We're going to make them (the government) do what they should do and must do. Anyone can do good when they're under the gun and the gun will be our organization."
The CBC concluded their conference with their annual gala dinner. It was a who's who of Black America that included such notables as Harry Belafonte and Rev. Jesse Jackson. It was a special night of dinner and music.