FCNNEWSSOURCE
A Tribute to Media Titan, John H. Johnson (JohnsonPublishing.com)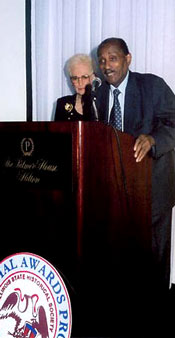 CHICAGO (FinalCall.com) – Funeral services were held August 15 to pay tribute to legendary Black publishing pioneer John H. Johnson, founder, publisher and chairman of Johnson Publishing Company, Inc., who died August 8 at the age of 87 after a lengthy illness.
Founded in 1942, the No. 1 Black publishing company in America was started with a $500 loan Mr. Johnson borrowed on his mother's furniture. He began Ebony and Jet magazines in 1945 and 1951, respectively, when Blacks had little or no positive media coverage. What was an initial circulation at 25,000 per year in the 1940s grew to a present-day monthly circulation of more than 1.6 million. Johnson Publishing is also owner of Fashion Fair Cosmetics and EBONY Fashion Fair.
Hundreds of mourners, which included the Honorable Minister Louis Farrakhan and a major delegation from the Nation of Islam, gathered in Rockefeller Memorial Chapel located on the campus of the University of Chicago. The 2 1/2 hour service was eulogized by Illinois Senator Barack Obama, former president Bill Clinton, Illinois Governor Rod Blagojevich, Chicago Mayor Richard Daley, Reverend Jesse Jackson Sr., and broadcasters Tom Joyner and Tavis Smiley.
Mr. Johnson is pictured here, where he received the Society's Lifetime Achievement Award at the 2004 Centennial Awards held in Chicago, Ill. He is survived by his wife Eunice, secretary-treasurer of the company, and daughter, President/CEO Linda Johnson Rice.