FCNNEWSSOURCE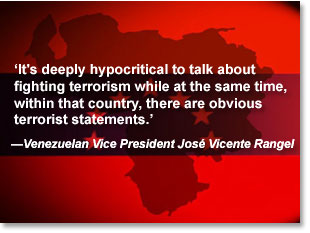 (FinalCall.com) – The Venezuelan government has vehemently condemned the right-wing Christian evangelist Pat Robertson for calling for the assassination of President Hugo Chávez.
During a Monday broadcast of the Christian Broadcast Network show, "The 700 Club" Robertson 75, said "You know, I don't know about this doctrine of assassination, but if he thinks we're trying to assassinate him, I think that we really ought to go ahead and do it." Mr. Robertson continued, "without question, this is a dangerous enemy to our south, controlling a huge pool of oil, that could hurt us very badly. We have the ability to take him out, and I think the time has come that we exercise that ability."
Although U.S. State Department spokesman Sean McCormack's attempted to downplay Robertson's comments saying, "we do not share his view and that his comments are inappropriate," Venezuelan Vice President José Vicente Rangel called for action from the U.S. Government. "It's deeply hypocritical to talk about fighting terrorism while at the same time, within that country, there are obvious terrorist statements," he said.
Rev. Jesse Jackson in a statement also condemned Robertson's remarks and asked the Bush administration to do the same. "These comments are morally reprehensible and dangerously suggestive. The international community repudiates Robertson's remarks, and calls upon him to retract his remarks. Calling for the assassination of world leaders is wildly provocative. It is just the latest of Robertson's outrageous and intemperate declarations. President Bush and Secretary of State Rice should immediately rebuke and disassociate the administration from Robertson's comments.
Analysts say Washington has become increasingly worried about the geo-strategic implications of President Chavez' petro-policies. The United States currently imports about 1.5 million barrels of oil a day from Venezuela–or about 60 percent of Venezuela's total oil exports. But President Chavez, who has warned that he will cut off the oil supplies if Washington tries to overthrow him, has been trying to diversify his customers.
In the mid-1970s, Washington officially prohibited the Central Intelligence Agency (CIA) from planning or participating in assassination attempts against foreign leaders, a prohibition widely disregarded.
On April 11, 2002, Pres. Chávez was ousted in a short-lived coup, and business leader Pedro Carmona was named de facto president with quiet U.S. backing. But just two days later, Pres. Chávez was restored to power by loyal factions of the military, backed by massive popular demonstrations.
President Chávez has repeatedly referred to plans to put an end to his life, while Venezuelan Foreign Minister Alí Rodríguez brought an official complaint before the Permanent Council of the Organization of American States (OAS) in Washington.
"We want to alert the international community to the fact that an event of this nature would not only threaten the peace in Venezuela, but in the rest of Latin America and beyond," said Mr. Rodríguez. If the president were, in fact, assassinated, he said, "who could control the reaction of the Venezuelan people, of the oil industry workers, for example?"
The longstanding friction between the administrations of Hugo Chávez and George Bush over issues like democracy, human rights, sovereignty and terrorism has done nothing to hinder the flow of Venezuelan oil to the United States, at the rate of a million-and-a-half barrels a day, representing roughly 13 percent of total U.S. oil imports.
Pres. Chávez has stated numerous times that "we have evidence: if something happens to me, the person responsible will be the president of the United States, George W. Bush."
When asked to provide proof for the Venezuelan government's charges, Mr. Rangel responded, "This is rhetorical. The proof will be Chávez's corpse. Why not ask for proof from Chile, El Salvador, Guatemala or the Dominican Republic?" a reference to countries that have been subjected to bloody U.S. military intervention.
U.S. State Department spokesman Richard Boucher has labeled the Venezuelan leader's allegations as "ridiculous and untrue."