FCNNEWSSOURCE
Background insights on His Phenomenal Music Career
Previous colmuns by Mother Tynnetta Muhammad
(The following is a reprint from the Spring/Fall 2005 edition of the Cultural Links News Journal.)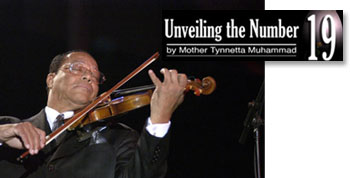 During a recent visit of the Honorable Minister Louis Farrakhan to the city of Los Angeles, I was one of several guests at his dinner table when I had the opportunity to ask him the following questions concerning his current musical challenge in preparing and performing Tchaikovsky's Concerto for Violin.
On that subject, I asked how he was inspired to choose Tchaikovsky.
Minister Farrakhan: The first violin concerto that I even heard was the Mendelssohn violin concerto, performed by Joseph Zegetti. The second violin concerto that I heard was Beethoven, performed by Jascha Heifetz. The third violin concerto that I heard played was the Tchaikovsky, performed by a female, Erica Morini.
And so these were all concertos that, in my tender years, were far out of my reach, but were something that I always wanted to perform. When I was 17, my Russian Jewish violin teacher started me with Mendelssohn. We got through the first movement, and I went on to college and I did not take any more lessons. Mendelssohn, for me, was an unfinished work.
After 42 years of being absent from playing and performing the violin, I decided to play again, I wanted to finish first, the Mendelssohn. Mrs. Foreman helped me finish the Mendelssohn, but there were four concertos on my mind when I was doing the Mendelssohn, that I wanted to complete before I left this world.
The first, again, was Mendelssohn; the second was Beethoven; the third was Tchaikovsky and the fourth was Brahms. And so, God has blessed me to get through the Mendelssohn, to struggle with Mr. Beethoven and now I'm working with Mr. Tchaikovsky. But, before I go to Brahms, I am going back to Beethoven and Mendelssohn, because I really feel now I am more ready to do a better job with those great works. That is how long it has been in my heart to do Tchaikovsky, since I was a little fella.
When I started off, I had four major ones–those four that I mentioned. I am on my third now and so, God willing, I will complete them all. Mrs. Foreman, my former teacher, said she was not going to help me to do the Beethoven because she really did not think I could perform it. But Ayke said she knew that I could and that she would help me. She did and I was able to do the Beethoven. Sister Claudette introduced me to Charles at that time. He came over and Ayke and I played it for him. When I finished, he was very kind. He said there were moments of brilliance, but that was kind. He wasn't hurtful, but he advised me to get a metronome and put it at 60 and play the piece exceedingly slow.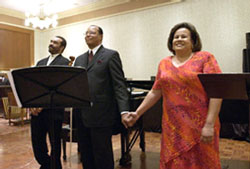 We went out and got the metronome and I put it at 60. For two or three hours every day, I would play at that slow pace and I think he came back about 10 or 11 days later and I had improved almost 100 percent just by playing very, very slow.
I performed at the Cerritos Center and put out a record; the only way I could do it was to go into the studio to fix the sound out. Charles helped me to go into the studio. That is difficult work. But between Ayke and Charles, I was able to put out a record. I don't bother to market it because I know those things will sell when I am gone. People will want to know about my life and every little thing that I did will have more meaning. The food will have more meaning to it. The part that is very interesting is that [my former teacher] Mrs. Foreman, when I told her my ambition to play Tchaikovsky, she told me "it will take you ten years."
I had ten weeks before I was to perform it. She said, "You could not perform it in ten months and if you are going to do it, I can't be your teacher because I don't think you can do it." When I talked to Ayke, she did not agree and Ayke is both violinist and pianist, the pianist that was in the master's class of Jascha Heifetz for the last 15 years of his life. Then Charles came along and said, "Ten years? I will have you playing it in six months," and we got started. He's in California, I'm in Chicago, but he gave me my first few lessons on it, this is the truth. He came and visited me about three weeks, a month later and a month later, I could see that I would be able, by God's grace, to master it. Now we have almost finished the first movement and we have gotten to the second movement, and then we are working now on the third movement. I mean, we still have to finish the first movement, but he will bring me in six months time. The end of February will be the six months and I want to be able perform it.
Charles: Oh, I think you can if you want to.
Min. Farrakhan: I don't want to. I'm the type of man that once I get it, I want to get it all in me and I want to go back over and break it all down and build it back up until I am so immersed in it, you know, because right now, with old age, I'm trying to tell you so that you will understand when you get there.
It was after the Beethoven, I was wiped out. I picked it up twice in two years or more, just to play a few scales and I put it back and during, near the end of the second year, Ms. Lee came and she said, "Minister, the National Association of Negro Musicians are having their annual convention and you did great for them ten years ago. It would be wonderful if you would play for them again. So I said, "Ms. Lee, you know I have not played the violin for ten years. I just don't have it anymore." So she died. And guess what, the National Association of Negro Musicians did something in her honor and they wrote a piece from Shakespeare, "Two Gentlemen from Verona, Who is Sylvia?" And it's in her honor, for collaverture violin and piano, and nobody was allowed to play the violin part but me. So I told the composer, look, you have to write it real simple, because I have not played the violin in a long time and it, my technique, is not there. So he sent it to me and it was in times that I had never played before 12/8, 10/8 and 9/8,–and changes in key in one measure to another, so I don't know.
So I said, "Charles, Charles, can you come and help me with this?" And he brought a man, a performer, D.J. Rogers, to the farm. We had dinner, then we went in to play. D.J. came into the music room and said, "You know, Minister, I have something to say to you and you can't kick me out of your house, but I've got to say it. If you haven't played in ten years and you're sounding like this, I just want to tell you that God has given you a weapon and you're not using it." He said "David was a soldier and a prophet, but he also was a musician and he used everything that God gave him to accomplish his mission." And the first time that the Most Honorable Elijah Muhammad and I were in close proximity, he shook my hand at the end of the dinner and he pulled me close to him and said to me, "You remind me of David." That was 1957. He knew then that I was going to sit in his seat. So, I'm back now with my violin and I'm never going to put it down again until God takes me away, and then I'll still be playing.