FCNNEWSSOURCE
One-on-One with Savannah State University President Carlton Brown

In Georgia, a state known for the presence of the most prominent historically Black educational institutions, surprisingly, Savannah State University is the oldest public historically Black institution. A native of Macon, Ga., Dr. Carlton Brown, who has dedicated his entire life to the advancement of education at all levels, has served as the president of Savanna State University for the past eight years. He spoke with Final Call Online Correspondent Ashahed Muhammad for a brief interview during the Annual Summer Convention for the Georgia Association of Black Elected Officials (GABEO) held on the campus of Savannah State University.
Final Call (FC): Talk to us about the importance of Historically Black Colleges and Universities?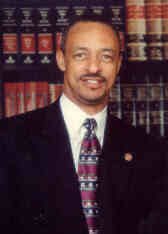 Dr. Carlton Brown (CB): These institutions began because others would not allow African Americans, after the post-Civil War period, to enter other institutions of higher education. We were provided with what was really intended to be substandard education with an appeasement. However, over time, the bonding that African Americans have made with these institutions has transformed them into much more than an appeasement. They have become much of the strength of the communities in which they reside.
They have provided beacons of hope and inspiration for generations of young people who are sorting out their possibilities and, as most people now recognize, they have been producers of leadership in the African American community in America in a variety of fields.
They are critically important, not only from the standpoint of historical legacy, but certainly as we move forward, the different perspectives that we bring to bear on the issues of teaching, learning, education and preparing people for life makes them critically important to the continued growth of the African American community and the overall growth of the nation.
FC: What types of strategies, leadership programs and character-building programs do you have for those students sorting out their possibilities and determining what level or field of endeavor that they desire to enter?
CB: We have a definitive approach to developing the whole student. It is not just about knowledge development and skill development. It is always about the development of character, perspective, responsibility, and learning to lead, not by seeking position in office, but learning to lead by developing qualities and making an impact on the problems that affect the community.
We spend a tremendous amount of our time when we're not in the classroom doing the kinds of things that enable students to develop those characters of perspective, hope, understanding, philosophy, that then leads them to want to be of service and then to learn how to be of service. We subscribe to the philosophy of servant-leadership.
FC: What are your views on the current educational system in America?
CB: I really do think that the current educational system in America is bankrupt from the standpoint of the pursuit of truth, connecting students to the truth; bankrupt from the standpoint of morality, teaching and learning; and bankrupt certainly from the standpoint of positioning those who benefit from an education to make positive change on this planet.
FC: What are the benefits of being at a Historically Black College and University for a Black student?
CB: When done properly, it becomes a learning community that can help a student focus on their own career preparation, focus on the issues that face the community and provides multiple and safe opportunities to develop leadership skills and capabilities. It is an environment where one is culturally reinforced on a daily basis by the habits, traditions and methods of communication. For example, on my campus, one of the things that a student learns within weeks of being here is that even for those in the community that you may not yet know, you are expected to be cordial and to speak to them. We all do it, and that then breeds new relationships that don't necessarily develop on other campuses.
FC: Regarding the issues of the Millions More Movement, there is a strong educational component dealing with the creation of a new educational paradigm. What are your thoughts on the upcoming Millions More Movement?
CB: As I heard Minister Farrakhan and the issues that he put on the table, it's really time for us to assert the promising of our own needs and longings for family and community development in a way that becomes mutually reinforcing and self-developing, because ultimately we are at a juncture in the history of the world where every people has to take up the mantle of its own development.
That is very much what I hear when I hear Minister Farrakhan speak about the issues that face us now. How do we begin to redefine our culture, our music, our history and our relationships to each other? How do we begin to impact the causes of crime and disruption in our own communities and how do we participate in our own economic development? I'm looking forward to it.
FC: Thank you.