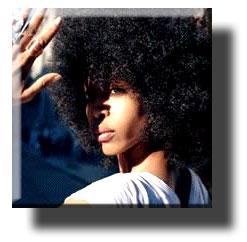 (FinalCall.com) – When she performs, her stage afro seems larger than life, but when she speaks to you, it is her vibrant energy that consumes the conversation. With a dramatic presence of style and soul, Erykah Badu has continued to produce songs that express her voice according to her definitions, not those crafted by an industry or public.
Her religion is art, she declares of her effortless creativity. But the path of her musical tracks recently turned down an independent lane, with the birth of her Sugar Water Festival tour with Jill Scott and Queen Latifah.
"Water represents the womb of the nation and the woman," she explained to The Final Call, adding that the planet should be called "Planet Water" because it's three-fourths water. "And I thought 'sugar' because we represent the sweetness of time and sound," she says of the meaning behind the name of the festival.
The tour brand belongs to these three lyrical power generators, and when these Sisters hit the stage, they showcase an explosive example of artistic talent that is free to be.
Chicago got a sip of Sugar Water on July 29, when the tour blew through the Windy City–but not fast enough to stop Erykah from visiting Respect for Life bookstore for an autograph signing and registration promotion for the Millions More Movement, which was arranged by the local MMM Entertainment Committee co-chairs Zainab Farrakhan and Latonja Muhammad. A steady stream of residents flowed through, packing the corner bookstore for nearly an hour.
An extensive phone call with the Honorable Minister Louis Farrakhan delayed her visit to the bookstore, and put on hold once again the sit-down interview with The Final Call that had been twice unsuccessfully arranged during coinciding travel, after she stood with Minister Farrakhan as a national co-convener to launch the Millions More Movement during the May 2 press briefing in Washington, D.C.
Nevertheless, on a tight schedule that was running nearly two hours behind, Erykah showed much love and offered to do the exclusive interview in her vehicle on the way back to her hotel, before she prepared for the sold-out concert for 7,000 fans–at the end of which, she pumped her fist in the air and pumped up the Millions More Movement.
Sitting across from her, her gentle graciousness becomes tangible as she slips off her shoes and sits on one leg while recounting how the tour manifested. In 1998, Erykah and Queen Latifah were a part of the second annual "Lilith Fair: A Celebration of Women in Music" tour, which was the brainchild of Sarah McLachlan. "It was pretty much a White girl festival" with Black female artists "sprinkled" throughout the program, Erykah recalls. Seeing it done in the Lilith Fair, Erykah and Queen wanted to have a tour that they owned–and now they do, along with Jill Scott.
Floetry opened up their show this year, and next year, the trio wants to have a little village where community supporters and groups can vend, demonstrate or introduce to the audience whatever cause they deem necessary. The proceeds from each tour is given to an organization in each city.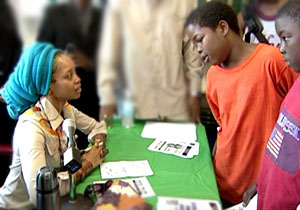 Acknowledging that she is not the first one to devote their time, finances and spirit to the world, this slender, soft-spoken songstress affirms that her efforts are not done in vain. Beyond her spitfire lyricism and independent thought, she brings more force and energy than would appear at first glance.
"If you want to get into the revolution, you're going to be broke and you're going to be beat, spiritually and physically at some point and it's just the way it is," she insists. "I've chosen that for better or for worse, because I know Kingdom come."
Kingdom come was also how she described the May 2 MMM press briefing, after seeing the broad spectrum of powerful leaders in the same room at the same time for one single cause.
"That's mathematics and science beginning to fit together and the time has come," she states. "We have no choice really. With that in mind, freedom is inevitable for all of us, not only the slaves, but the slave-masters," she believes.
She continued to share how her support of the MMM and the organizing of our people was not only natural for her, but also necessary. "I understand The Minister's whole plight, bringing all religions and groups and communities, and ways of thinking and ways of life together, because that's what I'm about and all I had to do was hear that and, of course, I'm going to support that wholeheartedly, and whatever the Minister does," she reveals, "because I really see that he's an anointed leader. I want to share my platform and my celebrity and whatever it is that I have to give, to move that along, because I believe that, too."
This sense of responsibility has always been with her, she shares, before she even understood her musical gift could be a platform. Humming to herself, she then offers that music is bigger than anything that can unite people. When people repeat the vibration of sounds, she explains, it is a hesi–a Kemitic word for "prayer" or "chant"–which becomes a part of their DNA or a part of their reality.
"We just have to come up with the right dialogue and the right things to say in our music, because it's something happening. Here, right now, we have the power to use our platforms to do that and it's our pleasure to do that," she beams.
Along with her ability to carry a melody, Erykah has also carried herself bravely through detractors in the press and public who pulled out a magnifying glass when she first emerged on the music scene in a headwrap. She was simply being herself, but in order to withstand the harsh criticism, she had to determine to become a "soldier for the Most High," she maintains: "I have to do that job that I have to do, no matter what."
Her courage in committing to her creativity and causes is rooted in her prayers to stay focused on the Creator's Plan, although she admits that, at one point, the ridicule that was hurled against her almost consumed her.
"When I figured out that I am not my head wrap, I am not my hair, I am not my skin, I am not this song, I freed myself from those labels and I was not going to let an industry define me. I'm going to define myself," she stressed.
The pressure to conform did not disturb her creative process, she continues. "I take my time putting out this music and do it when I feel ready to be consumed with all of the words and things and wind and stuff that people are going to throw at you," she says, comparing her process to a crawfish. "Crawfish, seasonally, go and hide because their shell becomes real soft and other crawfish can peck on them and kill them, yeah and they'll attack them. So, when that shell gets soft, I have to go in and build up myself. So, I take my time in this industry. However, I know that I need the industry because I need that platform, because the Most High gave it to me to do some things."
One of her most successful efforts is the founding of the organization, "Blind" seven years ago, which became a non-profit three years ago. Of the many community projects, it coordinates panel discussions in high schools, wherein 12 people who have a leading force from all walks of life discuss growth and life, through the Chakra perspective.
Blind also begat a school in South Dallas, called the Black Forest Theatre, for creative art, music, dance, theatre, sculpting and drawing. "When I grew up in that same community, I was able to go to the Martin Luther King Recreational Center to participate in one-act plays and those kinds of things," Erykah recalls. "They really helped me to find a place in society as a leader who follows her own dreams and mind. I found that through creativity, so I wanted to do that as well for the children in my community."
So, who is Erykah Badu? "I can't give you a precise true answer. I'm still trying to find that out, too. It's too soon to say that. That would be for my children to say," she humbly defers. "I'm a sister who was made a philanthropist, an artist, a mother, a reflection of The Most High's work."