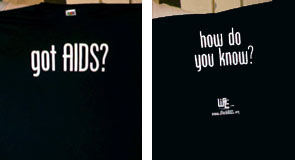 LOS ANGELES (FinalCall.com) – Until about a month ago, college student Shaunna Cooper did not know anyone infected with HIV/AIDS, but a leading activist's statement that Black women in the U.S. make up over 70 percent of people living with HIV startled her into unimaginable activism.
Far from her world at Langston University in Oklahoma, she sits with other young college interns at the Black AIDS Institute (BAI), strategizing and brainstorming on how to eradicate the disease, one person at a time.
The BAI is the first Black HIV/AIDS policy center dedicated to reducing HIV/AIDS health disparities by mobilizing Black institutions and individuals in efforts to confront the epidemic in their communities.
Shaunna detailed how BAI's motto, "Our People, Our Problem, Our Solution," drew her in, hook, line and sinker:
"A couple of years ago, the BAI, the Magic Johnson Foundation and others invited a bunch of college students to a teach-in on AIDS in Atlanta, because of the alarming rates on some North Carolina campuses. I had never been to Atlanta. It was free, and all I had to do was write a story about it. I was down," she recalled. "The conference blew my mind! I was so outdone by all of the numbers and statistics, particularly the one about us women.
"It almost brought tears to my eyes, because all this time I was thinking, 'I know what's going on in the world. I'm a journalist. I stay in the know.' And then they tell me all this stuff, and I realize that I don't know anything. Then I wonder, how could I not know that? Where's the information?"
She said that Phil Wilson, BAI executive director, explained that Black media, especially, needs to write more stories on HIV/AIDS infections, testing and prevention, because Black people are dying. From the Los Angeles-based organization, Mr. Wilson and the BAI staff have launched numerous programs around AIDS awareness, false stigmas, testing, treatment and education. Some are:
L.I.F.E. AIDS (Leaders in the Fight to Eradicate AIDS), a youth-led group focused on stopping the spread of HIV/AIDS among Black college students; African American HIV University AAHU: a two-year training and internship fellowship program on the science of HIV/AIDS; and Ledge: a bi-annual HIV/AIDS awareness magazine produced for and by Black college students.
Mr. Wilson asserts that AIDS in America is rapidly becoming a Black disease, and nowhere is that more apparent than among young African Americans. Mr. Wilson opines in BAI's latest publication "The New Reality," "Be it in our own communities or in government, Black America can no longer accept either/or distinctions when it comes to HIV. It's not the North or the South, global or domestic; it's both. HIV doesn't quibble over such distinctions, and neither can we."
Shaunna relinquished her role as Langston's newspaper editor to work as the national chairperson of L.I.F.E. AIDS, because she believes that this year's youth-sponsored teach-in will reach more students and save more lives. It is slated for Sept. 23-25 in Washington, D.C.
After the teach-in, Shaunna will turn her focus to the increasingly younger Black population, as Black children represent 65 percent of HIV/AIDS cases among American youth ages 13-19, according to BAI.
"I thank Phil Wilson and the Black AIDS Institute, because I don't like how older people don't think that the younger generation fights for anything. This gives me a reason to fight, something to fight for. AIDS is killing us," she stressed.
(For more information on the Black AIDS Institute of L.I.F.E. AIDS, visit www.BlackAIDS.org.)