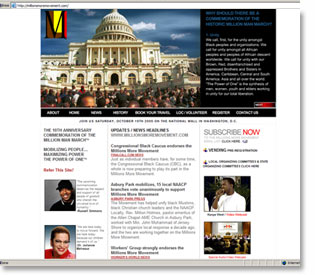 WASHINGTON (FinalCall.com) – In a surprise visit to the Nation of Islam's Muhammad's Mosque No. 4 (Washington, D.C.) July 20, the Honorable Minister Louis Farrakhan told the standing-room only audience that the Millions More Movement is responsible for waking up the masses of Black people and the young, college-educated.
"Go and work as hard as you can," he said to thunderous applause. "Wake up Howard University, UDC (University of the District of Columbia) and the Black students of Georgetown (University). Go to the hustler, prostitute and pimp. Tell them we've come to untie you. The master has need of a pimp, gangbanger and a young brain warrior. I'm counting on you."
Minister Farrakhan referenced the Biblical parable of the tied up ass and colt described in Matthew 21:1-2.
"Who is the ass and who is the colt? The donkey is the unlearned people and the colt is the young, college student," he explained. "Untie the college students. Others will come when they see the donkey and the colt working together."
Minister Farrakhan was introduced by Minister Ishmael Muhammad, assistant minister of Minister Farrakhan at Mosque Maryam. He encouraged D.C. to lead the way in bringing people to the march. "You are the host city. A million people should come from just the D.C. metropolitan area," Min. Ishmael urged.
Minister Farrakhan also gave the audience a healthy dose of a message of responsibility, emphasizing that "Our objective is to pull the family together." In pulling the family together, he cautioned the women on how they dress and how they dress their young girls.
"I need your help," he told the audience. "Where's the garment to cover the bootylicious? We must encourage our daughters not to show their form. It's enticement to a holy man, much less any other man."
He also discussed the need for couples to work on their marriages. "Strong marriages create strong families and strong families make a strong nation," he said. "Work it out. Divorce is not the answer. Work it out," he insisted.
During the meeting, Minister Farrakhan spoke very highly of New Black Panther Party leader Malik Zulu Shabazz. "I'm happy to see Malik Zulu Shabazz here tonight. I look at him as a student of Khallid Muhammad and as a great future minister of the Honorable Elijah Muhammad. He has a great legal mind, spiritual mind and a warrior mind."
"The umbrella of the Nation of Islam will always be there for our Brothers and Sisters who struggle for the liberation of our people. Bro. Malik is as much a Muslim as any one of us in the room. The New Black Panther Party is Muslim," he continued. "If they came from Bro. Khallid–and they did–they couldn't do that without him wiping them over with Islam."
Anthony Muhammad told The Final Call that the Minister's words were inspiring and rejuvenating. "It was what we needed to hear. He made us understand our responsibility as Believers. We have to be an example to society. That's the purpose of the Believers: to be an example," he shared at the end of the meeting. "It's our duty to show the world how to live, how to dress, how to eat and more. We are responsible for the masses and the young. We must show them that we care about them."