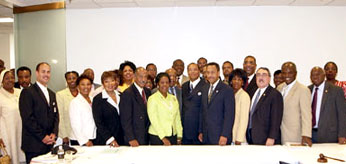 WASHINGTON (FinalCall.com) – Just as individual members have, for some time, the Congressional Black Caucus (CBC), as a whole, is now preparing to play its part in the Millions More Movement.
Although their meeting was interrupted several times by votes on the House Floor, practically all 43 CBC members eagerly attended parts or all of a two-hour session at the Capitol July 20 with the Honorable Minister Louis Farrakhan and several leaders of the 10th Anniversary Commemoration of the Millions Man March to be held in Washington Oct. 14-16.
Following the unpublicized strategy session, CBC Chair Melvin Watt (D-N.C.) told reporters that the CBC supports the October mobilization. The CBC is determined to become involved before and, most importantly, after the Commemoration to ensure that the Millions More Movement is an ongoing movement that addresses the concerns of our people.
Individual members were also enthusiastic about their collaboration. "I'm a strong supporter of this effort," Rep. John Lewis (D-Ga.) told The Final Call shortly after the meeting. "Minister Farrakhan made a great presentation to us, and the Caucus is going to be very supportive." A veteran of the Civil Rights Movement, Rep. Lewis spoke at the 1963 March on Washington for Jobs and Justice.
The mobilization's national leadership team participated in the meeting, including Reverend Willie Wilson, national executive director; Leonard F. Muhammad, national deputy director; Dr. Benjamin Chavis Muhammad, mobilization director; and Reverend Dr. Barbara Williams-Skinner, former executive director of the CBC.
"The Millions More Movement continues the Million Man March of several years ago, and it's critical," Rep. John Conyers (D-Mich.), the "Dean" of the CBC, told The Final Call. "Because from that experience, we now understand more clearly than ever the importance of follow-through and organization, particularly after the march.
"It's much easier to have a successful march than it is to have the issues that are generated being worked on across the country and in Washington. I'm glad that Minister Farrakhan and his contingency were received with open arms by the Congressional Black Caucus," Rep. Conyers concluded.
The meeting took place one day after President George Bush nominated John Roberts to the U.S. Supreme Court and CBC members joined other concerned Black activists questioning Judge Roberts's commitment to civil rights and expressed concern that the nation's highest court could shift to the right. The Supreme Court's decisions determine U.S. policy on workers' rights, affirmative action, voting rights and education, and the CBC will carefully evaluate the record of Judge Roberts in light of that history, said Chairman Watt.