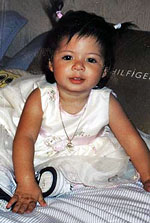 LOS ANGELES (FinalCall.com) – South Los Angeles residents are grappling with a host of prayer vigils, protests and press conferences following the fatal Los Angeles Police Department (LAPD) shooting of a 19-month old girl and her father during a standoff July 11.
Susie Marie Pena was shot once to the head by a LAPD Special Weapons and Tactics (SWAT) officer while her father, 34-year-old Jose Raul Pena, held her during a two-and-a-half hour standoff with police. He died of multiple gunshot wounds.
Over the weekend following the murder, Lorena Lopez transformed her home at the corner of 104th and Avalon Boulevard into a visiting parlor for community members still grieving over her daughter, whom she buried Saturday, July 16.
"They wanted an all-night sharing with their baby, and justice, peace and healing for themselves and the community, and no further violence in the community from whatever source, police guns or gang shootings. I really hope that young Latinos and African Americans can have peace in their hearts and not anger and hostility, and that this horrible death of an angel can bring people together somehow," stated family attorney Luis Carillo.
"Knowing that this was a hostage situation, the police should have taken all the precautions that they would have taken in any neighborhood, because they can't tell me that in Brentwood or Bel Air, they would have come in gunning like this," stated Western Regional Minister Tony Muhammad, echoing widespread sentiments.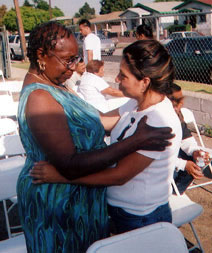 Police and witness accounts of what happened vary. The police reported that Mr. Pena was under the influence of drugs and alcohol, and began firing indiscriminately at the police. Other reports indicate he was depressed, had psychological problems, and had not taken his medicine. They say Ms. Lopez filed a domestic dispute report against him hours earlier, and subsequently, her 16-year-old daughter placed a 9-1-1 call, saying he had threatened the family and took the baby, causing police to move in. Police say the teenager was also being held by Mr. Pena inside his auto shop, but was able to escape.
However, the teen's brother, Ronald DePaz, said she was actually trying to get into the auto shop to get Susie, but was pulled back by police. At Final Call presstime, she was being held in an undisclosed mental institution. She was visited for the first time by her mother, three days after the incident occurred.
"They didn't let family members negotiate with him. My mother, uncles–they tried but the police wouldn't let them. He even personally called one of my aunts, but they didn't let her through from 103rd Street," Mr. DePaz stated.
David Villasana, a close family friend, decried the police action. "Just yesterday, just about five or six of us were having a vigil with one sign that said 'Honk if you're tired of police abuse.' And before you knew it, there were about 300 people who joined us to protest, because we're tired of this," he said. "We were out here as a family, Blacks, Hispanics and even some Caucasians."
Ronald Hampton, executive director of the National Association of Black Police Officers, said that the LAPD over-reacted, and cites the federal government's heavy weapons funding to police departments as problematic. "If they're buying war toys and equipment, then they are going to think that they are in a war and behave in a war fashion," he argued.
LAPD Chief William Bratton stated, soon after the incident, that the police shooting was justified, and infuriated the community when he tagged Mr. Pena as a "cold-blooded killer," blaming him for their deaths.
Chief Bratton and Mayor Antonio Villaraigosa are asking the community to remain calm and patient, at least until the LAPD completes its probe. But the community responded that the same patience being sought was not afforded to Susie, who was trapped between her father's anguish and heavy police artillery. They say patience on the part of SWAT officers could have averted the tragedy altogether, including the non-fatal shooting of SWAT Officer Daniel Sanchez. They also note that they are still awaiting the LAPD's status of the shooting death of 13-year-old Devin Brown.
"We are obviously under siege and we're going to have to remain in code red. If this country is under code yellow or orange for terrorist operations and engagements, then certainly we should look upon this as an assault against our communities," stated Reverend Dr. Lewis Logan II., head pastor of Bethel A.M.E. Church.
Activist Linda J. touted a message for officers at each prayer vigil:"When policy doesn't make sense, use your common sense!" She added, "Minister Farrakhan told us in Compton that the violence would increase in L.A. not long before he left us, and it is!"
Tearfully, trucker Norbert Barnett commented, "This has just overwhelmed me. The LAPD took the easy way out, but there was no reason to kill a child. They are already making excuses and backing themselves into a corner. It makes me sick to my stomach, but I am glad to see the African American community and my race out here like this, instead of fighting each other."
In an effort to be "transparent," Chief Bratton released photos including the interior of Raul's Auto Shop and video surveillance footage showing Mr. Pena holding Susie, while shooting. Community residents say they would like to see such investigative evidence forthcoming in all cases, and not just when the already tarnished LAPD reputation and image is at stake.