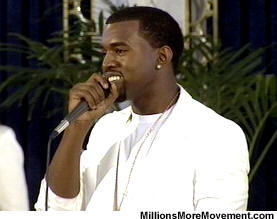 Chicago (FinalCall.com) – Before an audience of excited supporters and local Chicago news media, multi-platinum recording artist Kanye West stopped by the Nation of Islam's headquarters July 24 to show support for the Millons More Movement, 10th Anniversary Commemoration of the Million Man March.
Kanye West, a three-time Grammy Award winner and owner of the G.O.O.D. (Getting Out Our Dreams) record label with such notables such as platinum-selling recording artist John Legend and Chicago native rap artist Common. Also a philanthropist through his Kanye West Foundation, which combats the rising dropout rates in schools across the country, he started Loop Dreams as an initiative designed to support the fight to keep instruments in schools, and give "at-risk" students the opportunities for learning how to write and produce music, all while improving their academic skills.
On his way to the event, as he read from the agenda of the Millions More Movement, Kanye shared with the audience that every issue he read was like a verse from lyrics in his upcoming sophomore album "Late Registration" (due in stores August 30).
For complete video clip of Kanye West's comments, log on to: the official Millions More Movement website @ http://www.millionsmoremovement.com/news/kanye07-25-2005.htm
-by Nubian Muhammad
Kokla X contributed to this report.