The Millions More Movement (Official Site)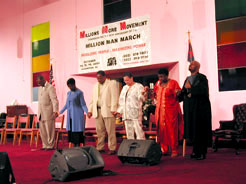 WASHINGTON (FinalCall.com) – "Maryland says they're bringing one million people to the march," said Reverend Willie Wilson, national director of the Millions More Movement, during a July 17 Millions More Movement rally held at the Scripture Cathedral church under the leadership of Bishop C.L. Long. "We don't have a million people in D.C., but we want every Black person in D.C. to be there. God is going to give us the victory."
In a program filled with messages that were well-received by the excited crowd of nearly 800 people, D.C. is well on its way.
Mid-Atlantic and East Coast Regional Minister Abdul Khadir Muhammad asked the crowd to remember the wonderful things that happened October 16, 1995. "Were you there in 1995 when the women helped us and sent us off, as if going to war? Were you there in 1995 when we were told to atone? Were you there when we left the Mall clean for the first time?" he asked. "It was unheard of. We thank the Honorable Minister Louis Farrakhan for his vision."
While acknowledging some of the improvements that happened after the 1995 march–a decrease in crime and an increase in the adoption of Black children–Rev. Wilson, who is also the pastor of Union Temple Baptist Church, stressed that the majority of our people today are in a worse condition than they were 10 years ago.
"We are more likely to die before 21, more likely to be unemployed, more likely to be poor and the list goes on," he lamented. "Wherever you live, the masses of our people are struggling. We die more frequently from diabetes and hypertension. In every area, we're in a bad condition. We're in bad shape as a people."
According to Rev. Barbara Skinner, founder of the Skinner Institute, many of us have forgotten what the day of the 1995 March was like, and so the past 10 years is a reflection of that loss of memory.
"How many of us are ready to come together so our children feel safe at school, in the streets and our women feel safe too? That is what this movement is all about," she said. "If we want our children to sing better songs, to sing about unity, we must live it. We have to give our children something to sing about, like moral order in our lives. October is going to be a reflection of what we're living."
Black people have tried many things to resolve our problems, from Reconstruction to civil rights to Black liberation to the call for reparations, but what we have not tried is unity, maintained Attorney Malik Zulu Shabazz, a national co-convener for the Millions More Movement.
"We have a common problem and a common enemy. It doesn't matter whether we've become doctors or lawyers; we have a duty to the masses of our people. There's a struggle to be fought," insisted Atty. Shabazz, who is also the national chairman of the New Black Panther Party. "The Millions More Movement is a chance for us to rise again."
Economist and syndicated columnist Dr. Julianne Malveaux spoke on the economic disrespect that Blacks experience in spite of having $700 billion in spending power.
"We've been disrespected. They won't put a major mall in P.G. County with a Saks or Nordstrom," she said, referring to Prince Georges County Maryland, which has the largest population of affluent Blacks in the state. "We're a consuming people. It's time for us to be a producing people."
Dr. Malveaux urged the audience to participate in the Day of Absence set for Oct. 15 as part of the Commemoration. "On Oct. 14, we want to begin the process of economic withdrawal. Don't buy that day. We want places to be empty. We have to have the discipline to not buy. This movement is about the many ways we are powerful."
She also offered a way for residents to assist with the economic withdrawal. "Tell your friends and family to stay at your house instead of the hotels. Offer them meals and lodging. Remember when we had to do this. Remember when we couldn't stay in these hotels. We have to think creatively to make an economic impact," she explained. "Remember it's not just millions more people; it's millions more dollars that we are going to take control of."
The program also included remarks by Reverend Grainger Browning, pastor of Ebenezer African Methodist Episcopal Church, who hosted the event, and Ward 5 councilman and mayoral candidate Vincent Orange.
"I'm glad somebody's going to talk about our social development," said Gladys Davis, a senior citizen from the northwest segment of the city. "I just watch our children and shake my head. What is going on? Where are their parents? Why don't they have home training? We're just letting our children run wild. Something's gotta happen."
Michelle Turner, a 23-year-old from the northeast segment of the city, shared that while she was not at the march in 1995 because she was too young, she plans on attending the Commemoration. "I've heard about it and will definitely be there," she said. "We need this march and we need it bad."