News Analysis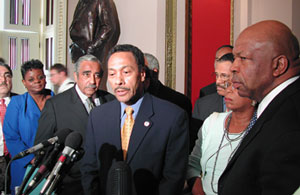 WASHINGTON (FinalCall.com) – President George Bush's latest judicial victory in the Senate–the confirmation of ultra-conservative Appeals Court Judge Janice Rogers Brown–might have been a perfect political decoy. At the same time, her confirmation fight was most certainly a dress rehearsal for the struggle over Pres. Bush's nominee(s) when ailing Chief Justice William Rehnquist must be replaced.
Conservatives emphasized her impressive individual achievement as a Black person–"the daughter of a sharecropper"–despite the fact that she has been outspoken in her opposition to the enforcement of laws that protect the collective interests of Black people. Conservatives sought to portray Judge Brown as "the judicial equivalent of Secretary of State Condoleezza Rice instead of John Ashcroft."
Democrats however, including both of her home state senators, and the Congressional Black Caucus (CBC), portrayed her as "the worst" of Pres. Bush's conservative nominees. Still, her nomination was permitted to go to the Senate floor for a vote in a Senate compromise intended to forestall the so-called "nuclear option"–a bitter procedural fight that loomed between Republicans and Democrats over the ability to filibuster, or engage in endless debate over judicial nominees.
"If she is so out of the mainstream," Pres. Bush's supporters argued, and Democrats compromised to allow a vote on her nomination, "and (she) is the worst nominee, then how could the Democrats possibly say any other judge Bush could nominate is an 'extraordinary circumstance?'" "Matt" wrote on "Blogs-for-Bush."
In other words, the standard of measurement for extremism concerning judicial appointments has been changed. It may be difficult for Pres. Bush's opponents to convince senators that any Bush nominee has views more extreme than those of Judge Brown.
Judge Brown's confirmation June 8 to the U.S. Circuit Court of Appeals for the Second Circuit in Washington, D.C. was by a relatively narrow margin, 56-43. Three Republicans voted against her, but three Democrats voted to confirm, and one Independent senator did not vote.
Judge Brown's views are "so far out of the mainstream, I can't even get to the questions of race and gender," civil rights attorney Elaine Jones said at a rally on the eve of the confirmation vote. She is not deserving of any "racial loyalty," Ms. Jones insisted. Other Black leaders agree.
"Black people learned to think about race and appointees during the Clarence Thomas appointment," said Congressional Delegate Eleanor Holmes Norton (D-D.C.) at that rally in response to a question from The Final Call.
"For those who have not yet learned, hear this: The greatest insult to a Black person in the United States today is to put up a Black person who opposes our rights and dare us to oppose them," Del. Norton continued.
"We have been very methodical on Janice Rogers Brown," CBC Chairman Melvin Watt (D-N.C.) told reporters before leading a mass march of CBC members into the Senate chamber just before the Brown vote, "to emphasize to the members of the Senate that of all of the nominees that the President sent over, that were a part of the deal, Janice Rogers Brown and Judge Pryor were, on matters of civil rights and race, the absolute worst of the lot.
CBC members wanted to "express our sense of frustration," Mr. Watt continued. "This is a matter that urgently impacts African Americans, because the courts have been a last resort for African Americans."
Women's leaders and members of other non-White "minorities" also agree. "Janice Rogers Brown has a history of hostility to affirmative action, reproductive rights, civil rights, disability rights, and government programs, such as Social Security," Olga Vives, a Latina and Vice President of the National Organization for Women (NOW) said at the rally. "Her court opinions reflect extremist ideology, and her confirmation will make it harder for women and people of color to challenge discrimination. Her record is clear. She's out of the mainstream and feels no pain for people who are victims of discrimination."
Claiming that it is not easy to lead a charge against a nominee from her home state, Sen. Barbara Boxer (D-Cal.) defended her opposition. "Facts compel you to do everything you can to oppose nomination," she said at the rally, pointing out that Judge Brown once wrote in an opinion that it was an employer's "free speech" right to use racial slurs in a workplace.
"Fair treatment, consumer rights, most basic rights are at stake with this nomination. Mr. President, this nomination is from the far, far right wing of America. When George Will says Janice is out of the mainstream, you know she's out of the mainstream, in the extreme, and this is no good for our country, for our people, for our seniors.
"Attacking every part of the New Deal as some sort of a socialist revolution, you have someone who's a loose cannon, Mr. President, and we don't want her firing those cannonballs at the people of this country," Sen. Boxer continued.
Judge Brown is so extreme, her opponents complained, that she was alone 31 times in dissent against the decisions of the Republican dominated (6-1 margin) California Supreme Court, dissenting more than a third of the time.