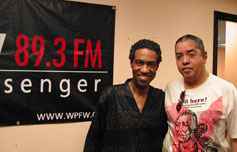 WASHINGTON (FinalCall.com) – It was a joyous reunion at community radio station WPFW-FM that spread all over the capital area June 7, when environmental and peace activist Damu Smith returned in person to host his radio program "Spirit in Action" on the airwaves of 89.3 FM.
Co-founder of Black Voices for Peace in 1999, and director of the National Black Environmental Justice Network, Mr. Smith is now battling cancer the same way he's fought all his adult life to balance the scales of justice on behalf of the downtrodden… vigorously.
Now a Divinity student, Mr. Smith was on a mission of peace in the Holy Land of Palestine. He was there, preparing to lead a Palm Sunday march, when he fainted and went into a seizure. Though he was treated by Palestinian doctors, it was not until he returned to Washington in late March that he learned he has colon, rectal and liver cancer.
Friends and other activists have rallied to Mr. Smith's side since word of his illness spread. In late April, dozens of musicians, intellectuals and activists, led by activist Dick Gregory, rallied to raise some of the $150,000 his supporters estimate his care will require.
"I've received excellent medical care from the community of healers, both conventional and alternative. I'm getting the best of the East and the best of the West, and the best of the rest. But I still have advanced colon-rectal, liver cancer, and so I'm fighting for my life," Mr. Smith told The Final Call in an interview at the studios of WPFW.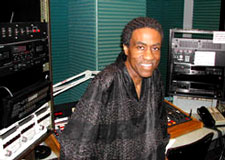 "I just appreciate the tremendous outpouring of support and love from the community, nationwide, and the visits I have received from some of the nation's foremost civil and human rights leaders, including Minister Farrakhan and Rev. Jesse Jackson, and Rev. Ben Chavis and Rev. Al Sharpton has called, and Dr. Ron Walters and so many others–nameless people who have names; they're not celebrities, but they're celebrities in my heart because they're angel celebrities who are supporting me. With the Grace of God and the community of angels, I'm going to win this fight against this cancer."
Like many involved in grassroots organizations, Mr. Smith has not had healthcare insurance since he served for 10 years as a toxic campaigner and national associate director of Greenpeace USA. He left Greenpeace about four years ago to establish the National Black Environmental Justice Network, which fights against contaminated water and toxic waste dumps in Black neighborhoods.
"Right now, he's going to need all his energy in order to fight this illness. What we want to do is those who support him and love him and have been benefiting from his work for his whole life, we want to take a moment here to honor the work that he's done," said Joia Jefferson, who has helped to coordinate and publicize Mr. Smith's protests and other events, in a statement to NNPA Washington Correspondent Hazel Trice Edney recently.
"Damu is probably one of the most selfless people I have ever met. Damu wakes every morning, committed to curing the ills for the Black community in this country and around the world. He has dedicated the entire 53 years of his life to empowering Black people. Damu today stands as somebody who I know has aided our lives. And now we have to stand and aid him. We want to honor what he's done and also make him comfortable enough that all he has to do now is get well," said Ms. Jefferson.
"What's important about my situation is not so much what's happening to me, but what's happening to thousands of other African Americans," Mr. Smith told The Final Call. "We are dying more from colon-rectal cancer. We get it at a later stage when it's often too late to save someone's life. This has to do with the issue of the inequities of our healthcare system and also the question of our economic status, based on our racial designation in this society and throughout the world."
He continued to explain that we live in a toxic environment. "We are full of 'dis-ease' and we're not getting adequate treatment. We cannot afford to go to the doctor, so we tend to go later or not at all," he said. "So there's a racial dimension to this that we need to talk about.
"But all people, across the racial spectrum, need to get checked. They need to go in to see the doctor, no matter how good you're eating. I don't want anybody to go through what I'm going through. I want people to be healed."
Mr. Smith also stressed the need to talk about prevention, treatment, equal access and universal health care. He wants Final Call readers to know how moved he was by a phone call he received from the Honorable Minister Louis Farrakhan. He was in a great deal of pain he recalled when the phone call came, but Minister Farrakhan buoyed his spirits. He said the Muslim leader reminded him of campaigns he'd led in the past he had even forgotten himself, and then the two men prayed together.