FCNNEWSSOURCE

Congresswoman Cynthia McKinney made history in 1992 when she became the first Black woman to serve in the House of Representatives from the State of Georgia. She has earned a reputation as a strong and principled fighter for human rights and has helped to pass critical legislation that supported the rights of the people over corporate and political interest. In 2002, she came under fire for being one of the first Members of Congress to demand a thorough investigation into the events of September 11, 2001. An estimated 40,000 Republicans used an unethical practice called "crossover voting" to vote in the Democratic Primary to oust her. In 2004, she ran for re-election and the people of the 4th District responded with overwhelming support and put her back in office.
She was recently in Houston as the keynote speaker for the 4th Annual Malcolm X Birthday Self-Determination Weekend, hosted by the National Black United Front. She took a moment to discuss grassroots politics with Final Call Correspondent Jesse Muhammad.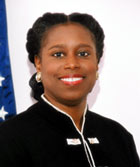 Jesse Muhammad (JM): Why do you think you face so much opposition in the halls of Congress?
Cynthia McKinney (CM): My positions are pure and this makes others uncomfortable. If there are those who have been, and who are, compromising here and there, then there is going to be a contrast. They do not want the people to see those who do not care about the powers-that-be.
JM: After your defeat, why was your re-election important?
CM: My re-election was very important because the corporate media and the powers-that-be lied about the reasons why I lost. They did this to try and trick Black people into thinking that strong leaders are no longer needed. I did not run for Congress to trick Black people.
JM: What are the critical issues you see facing Black people?
CM: The critical issue with our people today is, "Are we a people?" Do we care about self-determination? Will we let outsiders dictate who our leaders should be? Will we let outsiders determine our living standard? If we don't think of ourselves as a nation, then we are lost. So the question is, "Are we lost or will we be found? And who will find us?"
JM: During the Tavis Smiley "State of the Black Union" forum, the leaders initiated a covenant to never sell out our people again. What are your thoughts on that covenant and would you be willing to sign it?
CM: I have not seen the covenant as of yet, but I won't sell out our people.
JM: Do you support the Millions More Movement? Do you think it is important?
CM: Yes, I strongly support the Millions More Movement. The Millions More Movement is important because Black people and more coming together is good. And coming together with an agenda is always good.
JM: Thank you.