CHARLENEM
Activists decry its open season again on the Black community
LAPD kills Black teen; community pressures forge policy change (FCN, 0303-2005)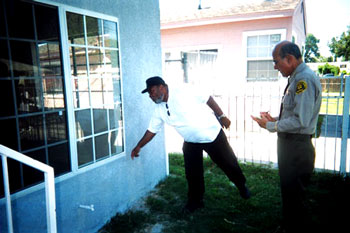 COMPTON (FinalCall.com) – "I thought it was a war going on. It sounded like Iraq was here," is Ruby Evans' description of the 120 shots that 10 Sheriff deputies fired at Black motorist Winston Hayes at around 4 a.m. on a narrow residential street May 9.
Despite the hailstorm–errantly classified as a gunfight by mainstream media–only four bullets hit Mr. Hayes, now recuperating at a nearby medical center.
Initial police claims that he had a gun proved bogus. The deputies were the only ones wielding bullets into bedrooms, dining rooms and a van, while residents ducked for cover in their homes only yards away.
Ms. Evans heard the firepower from her home over half-a-mile away. But Terry Moore witnessed the ordeal right outside her front door.
"He came up in my yard, and backed out, and when he backed up, that's when the sheriffs just opened fire," she recalled. "There was no warning call. When one started, everybody started, just like rapid fire. If you ever saw the movie Set It Off, that's just what Mr. Hayes came into."
"If this (building) would have been occupied, they would have had a problem," contended Lee Earl Hayes, a 36-year Compton resident, after showing Sheriff LeRoy Baca the shattered windows of his newly-renovated, unoccupied property. "It was unnecessary and they weren't good shooters. These people were amateurs. All of them firing, they say 120, but that was at least 160 bullets."
Reverend Al Sharpton and Sheriff Baca talked with residents and surveyed damage to their homes May 11, two days after the incident occurred. One pair of bullets traveled an entire block, through a bedroom window, causing minor broken glass injuries to the resident, continuing through the closets, and finally resting in the kitchen cupboard.
Rev. Sharpton observed that it was a miracle that no resident was killed. "But it's a miracle that we don't need to try to hope for again. You have to have standards on policing just like you have on civilians, because nobody wants to be terrorized by people in blue jeans or blue uniforms when you're innocent, and I think that that's the point that has outraged many of us," he argued.
In town to deal with policy issues, Rev. Sharpton also visited Mr. Hayes, whom he said is in great pain, and denies any wrongdoing. "He said he just got down in the truck and started praying that he lived," Rev. Sharpton informed.
Sheriff Baca reported that the incident started with calls from residents that someone driving a white SUV (sports utility vehicle) was involved in a shooting.
At least three residents told The Final Call that Mr. Hayes grew up in the neighborhood and was like family.
"When he gets to feeling good, high, he just drives around the corner real slow. Then, he gets tired and goes home. He grew up around the corner and went to school with my daughter and he's well-known," resident Lee Earl Hayes shared.
"They're saying that they got calls from the neighbors, but none of these people around here called, because we know him. He won't bother nobody," he maintained.
Sheriff Baca continued that deputies pursued Mr. Hayes, opened fire and caused a chain reaction, fearing for several deputies' lives when the driver backed his vehicle up. They later discovered Mr. Hayes was high on a drug substance.
"The question is when the police came, they didn't know whether he had drugs or not. This wasn't a drug test. This was a firing squad," Rev. Sharpton charged. "If you feel that someone is drugged, you test them. You arrest them."
The activist continued, "If this had happened in Beverly Hills, it wouldn't be tolerated. Why would it be tolerated here? If this had happened in Beverly Hills, Arnold Schwarzenegger, not Al Sharpton, would be walking the streets, and people would be off the force, behind the desk and D.A.s would be talking about prosecuting. We can't afford to be treated any less than that in Compton."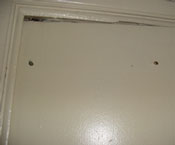 Sheriff Baca offered that part of the problem is that the deputies travel individually in their cars, have no communication, and no update and assessment of what has transpired on the scene.
However, Minister Samad Muhammad, of Muhammad's Mosque No. 54, stressed that the incident is a clear example that there is no intention on the part of the institutions in America to grant Black people justice.
"This shooting, as horrible as it is, is only the tip of the iceberg. The intent is to take out the young Black males and females. We have to urgently let our people understand what is more imminent than just this display of force," he urged. "People sleeping at night ought not to get gunshot wounds under any circumstance, whether it's the deputies doing or the gang-bangers."
Sheriff Baca fielded community outrage and solutions for better community policing from over 100 residents at a May 11 town hall meeting, later that afternoon, at Rancho Dominguez Park.
Former Compton mayor Omar Bradley admonished the community to seek justice every time someone is shot.
"This young man was shot and it was terrible, but there are Black boys and Brown boys getting shot in this area every day and we haven't had a meeting yet. So you are sending the message to everyone: That you don't care about your people," he insisted.
Captain Eric Hamilton reported that the shooters were temporarily on desk assignment, but will remain on field patrol. They have since issued an apology to residents through their attorney.