FCNNEWSSOURCE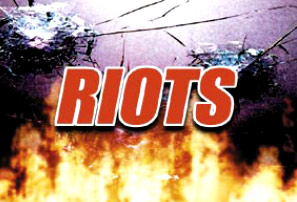 WASHINGTON (FinalCall.com) – Survivors of the 1921 Tulsa Race Riots gave a first-hand account of their stories to members of the Congressional Black Caucus (CBC) during a recent briefing on Capitol Hill.
The briefing examined the challenges survivors face in their pursuit of legal redress, as well as explored approaches and strategies to secure justice for the victims, some over 100 years old. Survivors were joined by prominent civil rights historians, attorneys and activists.
"This briefing was particularly important, because it allowed survivors to give a first-hand account of one of this nation's worst incidents of racial violence," said Rep. Mel Watt (D-N.C.), CBC chair. "It also allowed survivors to have their testimonies documented on the public legislative and Congressional record and on the CBC's Black Historical record."
After being silenced for more than half a century, survivors Otis Clark, Dr. Olivia Hooker and Wess Young recounted how the race riots impacted their lives and the Black community in Tulsa.
"Being able to give a public account of what happened to our community in May of 1921 is critical," said Dr. Hooker, who was 6 years old when the riots occurred. "Children today have no idea of what we went through and how it disillusions you. I believed every word of the Constitution but, after the riots happened, I realized that the Constitution did not include me."
Mr. Clark, 18-years-old at the time of the riots, recounted how his life changed after the violence. "Nothing was done about the loss of our property and, until this day, we haven't received anything," he said.
The Tulsa, Okla. race riot began May 31, 1921, when Blacks and Whites clashed outside a courthouse where a Black man accused of assaulting a White female elevator operator was jailed. Police deputized a White mob, which torched homes and businesses in Tulsa's thriving Black business district. The violence killed 300 Black people, left 8,000 Tulsa residents homeless and burned 42 square blocks.
"The loss of life and property experienced by the members of the Tulsa community during the Tulsa Race Riots of 1921 has never been properly acknowledged and justice has never been served," said Rep. Maxine Waters (D-Calif.). "I will do everything in my power to ensure that these courageous survivors receive due justice."
"We are approaching a critical moment for historical civil rights litigation, where we face the loss of our eye witnesses," noted Rep. John Conyers (D-Mich.). "Today's briefing allowed Congress to create a record to support future legislative relief, should legal issues arise making it difficult to achieve the ends of justice."
In 2001, an official Commission established by the State of Oklahoma determined that government officials had not, as authorities had led the public to believe, been overwhelmed by White vigilantes, but instead had actively organized and participated in mob violence.
The Commission also found that the city and state participated in a "conspiracy of silence," to sweep the riot "under history's carpet." None of the survivors have ever been compensated. To the contrary, a grand jury convened by the State indicted prominent members of the Black community.
Based on the Commission's findings, survivors and descendants of survivors have since pursued legal challenges seeking redress.
"I commend the courage of the Tulsa survivors," said Rep. Bennie Thompson (D-Miss.). "All too often these types of historical events go untold. This briefing allowed all people from all walks of life to hear first-hand what happened on this eventful day and its effect on civil rights in this country."