CHARLENEM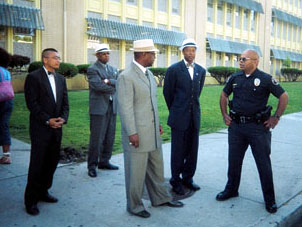 CORONA, Calif. (FinalCall.com) – The fatal stabbing of a Black teen by three Latino youth May 11 marks the first reported death in brewing violence between the groups in Los Angeles and surrounding counties.
Family and classmates say 15-year-old Dominic Redd was comedic and giving, but the boys who chased him on his way home from school at around 4:30 p.m., stabbing him nine times, will never come to know that.
"Right now, we need a lot of emotional support and prayers, and we need to find justice for our son. I just want closure," said his mother, Lisa Allen.
Jerome Redd, his father, also made a plea to his son's friends and other Black youth: "Don't retaliate. That's what's expected. We have to get control of the situation and we can't fall for a simple ploy such as an email or rumors that keep it going." He was referring to an email rumor charging Latino violence against Blacks, which has escalated paranoia, fighting and increased school absences.
"These children need to be respected. They have a lot of power and can do a lot of things, both negative and positive, but we can't ignore them. We have to allow them to voice their opinions and problems, and we have to address them," he said.
Reports say that Dominic ran from his pursuers, and ducked into the unit where his family lived, but was unable to open a door to escape. His attackers cornered him just yards from his front door.
"We can't let this incident cause us to go into an all out war with our Brown Brothers when, historically, they've never been our enemy," insisted Western Regional Minister Tony Muhammad.
"The question becomes, when did we become enemies one of another; and if we're not mad with our 400-year-old enemy, how can we be mad with the Brown man?"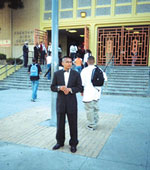 Dominic's death comes on the heels of a series of campus brawls between Black and Brown youth at Jefferson, Crenshaw, Locke and Santa Monica high schools.
On Cinco de Mayo, an annual Mexican holiday, Min. Tony and Halim Muhammad, Western Region Fruit of Islam Captain, dispatched Brothers to 12 high schools and three junior high schools to protect students during their travels to and from campus, and to ease their fears about the email lie that they were targets.
Denver Harris, who lives nearby with his 17-year-old daughter, labeled Dominic a martyr.
"He died for the kids who are here today, because he was a good kid and a good student. God always seems to take the good ones because that makes a difference. Look around. You have the Blacks, Mexicans, Whites–he brought them all together," he said.
Donning a black t-shirt that read "Redd 4," Dominic's football jersey number, 14-year-old Shana said that his death brought about a change.
"A lot more people, different races, are talking at our school now, and it never used to be like that. I think everybody's realizing that it needs to stop," she observed.
"It's a terrible tragedy and a lot of us are still in shock, because this is the first time in Corona that I hear of something like this happening," said Sam Buenrostro, Centennial's principal.
But Min. Tony said he is saddened, but not surprised over the killing. "The suburbs are full of people who came out of the inner city who had already been affected by gang violence," he opined. "You can take people out of gang-ridden L.A., but you haven't transformed their minds."
Corona Police have not yet identified any motive for the murder at Final Call presstime. They are offering a $10,000 reward for information leading to an arrest and conviction. Their anonymous tip line is (951) 817-5837.