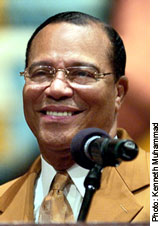 FORT WASHINGTON, Md. (FinalCall.com) – The greatness of the pain suffered by the people in America whose parents and grandparents are descended from slaves has only increased the sincerity of their prayers, which produced the Millions More Movement, declared the Honorable Minister Louis Farrakhan at the official kick-off May 2. Oct. 14-16 are the dates for the national mobilization in Washington, commemorating the 10th anniversary of the Million Man March.
The Muslim leader shared his vision, speaking in the crowded sanctuary of Ebenezer AME Church, a guest of Pastor Rev. Grainger Browning, and his wife, Rev. Joann Browning. Popular vocalist Erykah Badu led the singing of "Lift Ev'ry Voice and Sing"–the Black National Anthem–as a way, she declared, to help chase any lingering fear from the room.
Min. Farrakhan–who stood with a cane that he used to gesture as much as for support–compared his own pain which he's suffered since mid-April caused by an inflamed sciatic nerve, with the national pain of Black people living in White America as slaves and descendants of slaves and as the victims of an unjust Jim Crow legal system for another 130-plus years. And he linked all these pains to the depth of the need which produced this 10th anniversary commemoration of the Million Man March on the West Front of the Capitol Oct. 16, 1995.
"Pain gave birth to this topic. Pain is giving birth to the Millions More Movement," said Min. Farrakhan. "The collective pain of Black people has brought us to this point in our history.
"I know that I'm on that same road that Brother Martin King, and Malcolm (X), and (Marcus) Garvey, and all our ancestors were on, we're on that road," said Min. Farrakhan. "The difference is we're in the time of victory.
"I can smell the victory. I can see the victory. I can see our people, like Martin (King) said: 'I've been to the mountain. I have seen Promised Land. I may not get there with you.' That's all right, Martin. We see it, too, and we are going to get there."
There is an "unwritten law that Black people must never organize," said Min. Farrakhan. "But pain," he continued, "has brought us to this moment, when Christian and Muslim and Hebrew, and Nationalist, and Pan-Africanist, and those who fight for reparations–which should be all of us–those who know the law, and those who don't," can unite and work together for the common good of all our people.
But in order to impede the rise of the freed-slaves, White America is now attempting to "put a balm on our pain," Min. Farrakhan warned. "He's offering you false friendship as a balm for your pain. He's offering you his daughters… and his sons, too. But to heal your condition of self-hatred, he has not offered you his mansion.
"Today, we have more millionaires than we have ever had. Today, we have more educated Blacks than we have ever had. Today, we have more middle class, Black people than we ever had. Today, we have 10,000 or more public servants in politics. More than 500 Black mayors, city councilmen, aldermen, sheriff, deputy, everything you can think of, but our mind still is not free.
"So, we need Jesus. We need him right now. We don't need the milquetoast one, the Jesus that tolerates foolishness. We need the real Jesus in our lives. With the real Jesus in your life, you'll never be the same again. But if you're the same old Negro, with a slave mentality, crying out 'Sweet Jesus,' then you know the name, but you're not acquainted with the function.
"He is the Jesus that's the revolutionary Jesus. If you don't know that Jesus, I want to help you get acquainted with him."
The reason for the Millions More Movement at this time was taught to him in 1972, when Min. Farrakhan organized two plane loads of intellectuals and New York leaders to travel to Chicago to meet the Honorable Elijah Muhammad, because Mr. Muhammad told Min. Farrakhan to bring them to help "save the Nation."
"The Hon. Elijah Muhammad knew I was very popular in New York. So, I could go back to New York and call the learned, who are not in the mosque, to help save a nation," Min. Farrakhan recalled. "Now I'm popular in the country, and in the world, so I'm making a call now. It's not a call to save the Nation of Islam; it's a call to save the people who are dying in America. They can't be saved unless the Black learned people give the benefit of your learning to the cries of your people.
"That's why we're here. We're not here just to sing hymns and chants. Our young men and young women locked away in prisons–that's why we're here. We're not here to have an intellectual feel-good party. We're here to save a people that may not know Jesus; that are dying" needless deaths in America, the Muslim minister continued.
"We are here to organize the learned, to work for the unlearned masses, to work for the little people, to work for the poor, who have no advocate."
The goal, Min. Farrakhan continued, is so that the "least of our people live in a decent home, have health care, a good education, free from police brutality and mob attacks. Our women recognized, not for the beauty of their bodies, but for the brilliance of their brains. That's why we're here. That's why the Millions More Movement cannot fail.
"When you see Black men and women, cutting across all these religious lines of confusion, cutting across organizational lines: philosophical, theological, ideological, methodological, to find common ground, then the night is about to pass, pain is about to end. Launching this movement tonight at Ebenezer, we launch it with God at the center, with Christ at the center," said the Muslim leader.
"It was a great and very spiritual moment in our history. I attended the Million man March in '95. I'm one of the Brothers who've changed because of it. From the Million Man March, I finished school and bettered my life. I came to all of the services this weekend for Rev. Wilson's anniversary. I can't put into words what this means to see our leaders together and united for the common good of our people. I will devote my time, commitment and service to this cause," Fred Wardlaw, of Washington, D.C. told The Final Call.
"It's time for this to be happening. It's just time. There's a good feeling here and it's filled with positive vibrations," said Maryland resident Ann Dickerson.
James Allen, another D.C. resident, agreed. "I never thought I would see something like this. This pain the Minister talked about is exactly what we've been going through. I was pained looking at him in pain, but listening to how he explained it, we need the pain to do something because when we think things are good we don't do much to help ourselves and the problems just get worse. It's about time we did something about our situation that has a chance to work."
Nisa Islam Muhammad contributed to this article.