Activists won't keep silent on police brutality (FCN, 04-12-2005)

WASHINGTON (FinalCall.com) – At least two proprietors of businesses near Howard University are protesting the deaths of their adult children at the hands of the Metropolitan Police.
Family members of Charquisa Johnson, her friends and outraged community activists scheduled a candlelight vigil April 26–the second anniversary of her death–outside the apartment building where she was shot and killed by a White officer.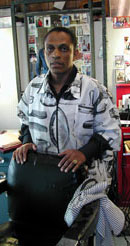 This was the second shooting by the same officer in his first three years on the police force. The officer has been on paid leave since the shooting, pending the conclusion of an investigation, according to information distributed by Ms. Johnson's supporters, including members of the New Black Panther Party.
"They just keep covering it up and nothing's happening," Charles Muhammad, proprietor of Modern Scientific Barbershop, told The Final Call concerning Ms. Johnson's case. His barbershop is across the street from the Universal Madness urban-wear clothing store, operated by Ms. Johnson's father and uncle.
"We're getting fed up with it," said Mr. Muhammad, a member of Muhammad's Mosque No. 4, who has been a consistent leader at inviting guests to attend Nation of Islam events and volunteering in fundraising activities. The Muslim parent lost a son this year while he was in the hands of the police.
His son, Charles Jr., died in police custody Mar. 15 after suffering an apparent asthmatic seizure while being fingerprinted. Mr. Muhammad was inside the police precinct and overheard police officers dealing with a disturbance, not knowing at first that it was his own son who was involved.
Late arrival, early death
He had been called in the middle of the night by his son asking to bail him out because he had been arrested for driving without a permit. Once inside that police station, however, Mr. Muhammad recalls witnessing a disturbing sequence of events.
He heard scuffling sounds for several minutes. Finally, a police officer asked who was the inmate, then another officer "said his name: Charles Taylor. And I said, that was my son. And the officer came to me and said I had to give $40 to pay him out."
At the same time, he recalled, "The lady officer kept sayin: 'Oh, he's back there faking. He's faking.' Then, they stayed back there about 20 minutes, and came and asked me questions about my son's medical history. Then, they came back to me again and gave me his property, the female officer gave me his property. The sergeant came to me and said to me, 'We'll have to take your son to the hospital because he's having seizures.'
"I sat back down. Then, about 20 minutes later, the paramedics came. They stayed back there 20 minutes. Then a lady came back out with a wheelchair. She took the wheelchair back and came back with an orange stretcher.
"And then the two paramedics took my son out with his eyes half-cocked–it looked like my son was dead then."
His son was taken to Howard University, but he was not permitted to ride to the hospital in the ambulance, so he drove there himself, arriving at the hospital before the ambulance. The guards told him to have a seat in the lobby. About five minutes later, the doctor told him that his son had expired because his heart and lungs had shut down, and that "if they could have got him there earlier, he could have made it," Mr. Muhammad recalled.
"My son lost his life over a traffic violation, in the custody of police officers," he continued. He remembers sittting in the police station for more than 45 minutes, and arriving at the hospital in his private car several moments before the emergency vehicle.
"I very seldom sleep now, because I watched him being born and I watched him die. And I go two or three days without sleep. I go over to the cemetery, like three or four days out a week," he lamented for his lost son and his three grandchildren, three years old and younger, who will now grow up never knowing their father.
Cops covered by silence
Despite the passage of time, supporters of Ms. Johnson complain that the police continue to practice a "code of silence regarding criminal conduct by fellow officers." The young mother of an infant and a toddler was shot once in the neck and a second time in the chest by the police officer two years ago.
They point out that, even if police claim to have "spotted her standing with a gun" are true, there was no need for her to be shot a second time, nor was there a justifiable reason for the police officer who shot the young woman to "kick her over on her stomach and (come) down with his knee in her back with so much force (that) people say they heard her spine snap." After that, they continue, the police officer handcuffed her lifeless body.
"Silence is all we've gotten from the police, the city council, and the U.S. attorney concerning the killing of our sister. In spite of overwhelming eyewitness accounts and physical evidence, the system has attempted to cover up murder," her supporters claim in statements issued calling residents to their candlelight vigil.
"Once again, the system is demonstrating a total contempt and disregard for Black life and safety. Hundreds of Black D.C. youth and adults have been beaten, falsely arrested, wrongfully charged, illegally jailed, maliciously prosecuted, unfairly tried, and sent to prison in D.C. since the killing of Charquisa Johnson," their statement continued.
Although groups like "Cease Fire: Don't Smoke the Brothers and Sisters" have managed to "increase the peace" among some young people, they vow to be equally vigilant in following, complaining about, and eventually rooting out police misconduct, "Cease Fire" founder Malik Farrakhan told The Final Call. This, despite the fact that friendly Black officers who helped them uncover police wrongdoing have been driven off the police force.