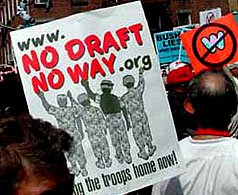 NEW YORK (FinalCall.com) – There was a conference on military draft resistance and counter-recruiting here Apr. 16 at Public School 41 in Manhattan. On Apr. 23, there is an anti-draft meeting scheduled in Detroit. Activists with the organization "No Draft No Way" say that local organizers, in almost every state in the United States, are organizing student walkouts, pickets and protests at recruiting stations and acts of civil disobedience.
Dustin Langley, spokesman for NoDraftNoWay.org, told The Final Call that a call for a "National Day of Action Against the Draft and Military Recruiting" on Mar. 31 was made.
"The Selective Service System (SSS) reported to Pres. George W. Bush that it is ready to implement the draft in 75 days. Right now, the SSS is staffing local draft boards, training volunteer registrars to work on high school and college campuses, and streamlining its induction process," Mr. Langley revealed. He said that the Department of Education had granted the SSS access to its computer files to insure maximum registration.
"It is clear that the Bush administration is preparing for a draft. They are desperate for new soldiers to continue the occupation of Iraq and to prepare for new wars against Iran, Syria and elsewhere," he charged.
Long-time War Resisters League activist Ruth Benn, arrested in front of a recruiting station in Brooklyn, N.Y. on Mar. 19, explained why the resistance would continue throughout the nation. "We march to military recruiting stations to demand an end to wasting young lives in war. Many of us will put our bodies between the recruiting stations and the young people they want to use as war fodder," Ms. Benn said.
On Mar. 31, students, parents, activists and educators rallied on the steps of the Board of Education building in lower Manhattan, in an unauthorized demonstration, to demand that military recruiters leave city schools and that there be no draft. A delegation attempted to deliver a letter to Chancellor Joel Klein with several demands: "schools educate students about the threat of the draft; keep military recruiters out of schools; cancel JROTC programs; and notify parents of their right to prohibit their child's information from being submitted to military recruiters."
Anti-draft activists, trade unionists and students marched in Boston Mar. 31 and rallied in front of a recruiting station across from the Boston Common. Carl Webb, a member of the Army National Guard who has refused to be deployed to Iraq, joined them. The Times Herald in Worcester, Penn., reported that 60 students from the Methacton High School walked out of their classes, voicing their opposition to the war and a potential draft reinstatement.
In Bloomington, Ind., it was reported that 50 people turned out for protest against the draft and military recruiting at a newly opened office of the Indiana National Guard.
Activists held a protest in Buffalo, N.Y., on Mar. 31 in front of the Federal Office Building. Concerned citizens gathered at the corner of 21st and Division Streets in Nashville, Tenn., to oppose the draft. After the Nashville demonstration, protesters traveled to Clarkesville, Tenn., home to the Fort Campbell military base–which has the highest casualty rates from the war in Iraq of any military base in the nation–for a peace vigil.
Similar protests were held on Mar. 31 in Voorheesville, N.Y., Philadelphia, Western Massachusetts, Santa Rosa, Calif., and Ames, Iowa. On Apr. 1, youth in Raleigh, N.C., picketed in front of the Army Recruiting Station and blocked the entrance for the duration of their protest. They reportedly read a statement denouncing the war, the draft and military recruiting.
In the meantime, the SSS on its website, www.sss.gov, states: "Both Pres. Bush and the Secretary of Defense have stated on several occasions that a draft is not needed for the war on terrorism, including Iraq." Military analysts warn that, if American forces don't pull out of Iraq in a year, a draft will be needed to meet manpower requirements.
The March issue of Washington Monthly, a pro-war centrist journal, according to observers, offered some important insight in a pro-draft article, "The Case for the Draft." The article talks about what the new draft would look like; and how it might be sold to the public.