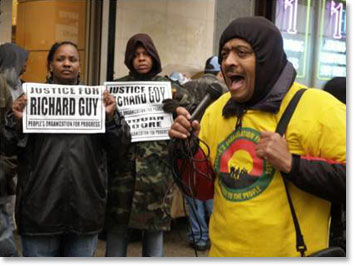 NEWARK (FinalCall.com) – Torrential rains could not stop the Newark-based Peoples Organization for Progress (POP) from marching April 2 to police headquarters to protest the January 2005 police shootings of Rashid Moore and Richard Guy.
"We have to get the message out there, and get it out there constantly, that police brutality is alive and well in America," commented Lawrence Hamm of POP. "Being out in the pouring rain shows just how determined we are to fight against the injustice of police misconduct."
"Why did they have to shoot my son 17 times. Wasn't once good enough?" asked Elizabeth Moore, Rashid's mother, during an interview with The Final Call. "I've lost my best friend," she lamented. "He was never in any trouble. People say that he helped a lot of people in the community."
Margaret Guy said she is still in shock over the shooting of her son Richard, who was wounded in the leg. She said that it is hard to understand how the people who are supposed to protect the community end up being the ones who do the most harm. Richard Guy is charged with trying to take a policeman's gun.
"It is the same cops in Newark committing the killings and beatings," argues Mr. Hamm. He said that one of the police officers who killed Mr. Moore killed another Black man in the summer of 2003. A "no bill" was the ruling in the murder of Michael Newkirk; and now this same officer has killed another young Black man, Mr. Hamm offered.
Lisa Davis, of POP, told The Final Call that activists must pay closer attention to the court system. "It's the judges that are allowing cops to get away with police brutality," Ms. Davis argued.
Alvertis Simmons, a member of the Denver, Colo. Million Man March Local Organizing Committee, is passionate about the issue of police brutality. "(It's) very important that activists keep up the pressure in the streets, keep the issue in the forefront. If we don't, who will?" Mr. Simmons asked.
Denver anti-police brutality activists have been protesting the recent shooting of a Black man with a Taser gun, who was accused of trying to steal a $1.99 salad from an Aurora, Colo. restaurant, while having lunch with his children. Aurora is part of the Metro-Denver area.
"They hit him with the Taser, and then arrested him in front of his children, while charging him with resisting arrest," Mr. Simmons said.
Activists are demanding the firing of the officer in the Taser gun incident, and held a rally April 4 at the All Nations Church in Aurora to discuss police brutality.
Minister Gerald Muhammad, of Muhammad's Mosque No. 51 in Denver, said the relationship between the Black community and the Denver and Aurora police departments is not good, calling it "open season" on Black people.
"We also have the issue of the same police officers getting away with killing Blacks," Min. Gerald said. In 2003, 15-year-old Paul Childs, who was mentally impaired, was shot in his mother's house. A year earlier, the same officer shot and killed another mentally impaired Black man, who was also hearing impaired," Min. Gerald recalled, pointing out that nothing happened to the officer in either case, but the late attorney Johnnie Cochran won a $1.6 million settlement for the Childs family.
"Both of these police departments argue that they have the right to use force. We charge that they are guilty of using excessive force. We have been proactive in fighting their racist policies," Min. Gerald stressed.
In Seattle, Wash., activists working with the October 22nd Coalition Against Police Brutality have set up a hotline for victims of police misconduct. "We are being overwhelmed with calls," said coalition member Dan DiLeva, who noted that the calls are mostly about police beatings and bad attitudes of police officers who are verbally abusive. "Driving while Black is also a big issue in Seattle," he added.
And so is "walking while Black," according to anti-police brutality activist Goldie Holmes. "It seems that Black men have a target on their backs in Seattle. Just walking down the street seems to make police officers angry," Ms. Holmes stressed. She says that activists continue to be proactive, but they are fighting against a perception that things such as police brutality don't happen in Seattle.
The Seattle group holds a vigil every month to remember victims of police brutality. According to activists, April is the month that Robert Thomas Sr. was shot to death back in 2003 by an off-duty police officer, who they say did not identify himself.
"This case helped us turn the corner in getting people in Seattle to face the reality of police brutality. We use the vigils as a means to keep the issue on the front burner," Mr. DiLeva said.