CHARLENEM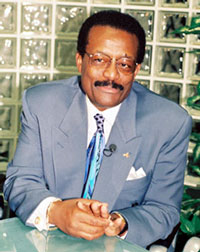 LOS ANGELES (FinalCall.com) – Champion legal defender Attorney Johnnie L. Cochran Jr. succumbed to a brain tumor at his home March 29, and throughout America and some parts of the world, people from all walks of life are celebrating his life and work.
"I had the privilege of working with Johnnie for more than 11 and one-half years. He was my mentor, my brother and my friend. What we have lost in Los Angeles is a vanguard for the powerless," stated Atty. Carl Douglas, an L.A. native who joined Atty. Cochran in 1986.
More than a lawyer, Atty. Cochran was a translator of the law, and through understanding and observation of his clear language and charisma, the elderly, "uneducated" lay-people, and even children came to understand foreign points of the legal system that he diligently served.
Actress and family friend Vanessa Bell Calloway, who recently spent time with Atty. Cochran and his wife Dale at their family home, remembers a gentle giant who always made time for everyone.
"He's going to be missed, and the legacy he's leaving, undoubtedly, he's not only the best Black attorney we've had, he's one of the best attorneys we've had in this century, in our world," Ms. Calloway shared.
As chronicled in his memoir, "Journey to Justice," Atty. Cochran rose a long way from law school in the 1960s, fighting injustices everywhere for the rich or poor, Black or White.
For Michael Zin Zun, executive director of the Coalition Against Police Abuse, the most notable case is Deadwyler, which occurred in the wake of the 1965 Watts riots. While rushing his pregnant wife to the hospital, Black motorist Leonard Deadwyler was killed during a traffic stop by LAPD officers. Among other things, Ms. Deadwyler's representation launched Atty. Cochran's courtroom campaign against police abuse.
"Remember Deadwyler. Atty. Cochran set the tone for those of us in the struggle against police brutality. We were fighting in the streets, and he was right there along with us," Mr. Zin Zun stressed. "We can't weigh him or his contributions to injustices against racist, brutal police in just one word or sentence."
Nation of Islam Western Regional Minister Tony Muhammad said of the legal giant: "There will never be one like a Johnnie Cochran, who is a spiritual man, a man who stood up for all that is right. He is the people's attorney and we thank God that we were able to witness him throughout our lifetime."
Many of Atty. Cochran's cases and clients hold incomparable circumstances, infamy, importance and celebrity, including his Michael Jackson molestation defense;settlement with the New York Police Department for its officers' assault against Haitian immigrant Abner Louima; and, of course, his successful double murder defense of football legend O.J. Simpson.
However, his "pride and joy" rests with his efforts in securing the freedom of Geronimo ji Jaga Pratt, who was wrongly convicted of murder and imprisoned for 27 years.
Rosalind Muhammad, then Final Call West Coast Bureau Chief, was, at the invitation of Atty. Cochran, the sole journalist at the table when Mr. Pratt savored his first meal free from bondage.
She recounts: "In December 1996, that was when the retrial started, I had heard of Atty. Cochran, but didn't get to meet him until 1996. I can tell you being in that courtroom was very intense. I hung onto every word out of every witness' mouth and I took copious notes, and I witnessed a master.
"Totally at ease, he was a combination of fierceness plus compassion. And like any good attorney, he poked holes in the prosecution's former cases. He raised serious doubts about some of the evidence, and I can tell you, had that judge not reversed that whole sentence, I would have concluded that there's absolutely no justice anywhere in the universe. It was that compelling of his innocence. It was during part of that trial that I interviewed Johnnie in an empty courtroom."
It was Sis. Rosalind's preparation for the interview–reading "Journey to Justice" and revealing through her article the humaneness of a legal icon whom few bothered to look into beyond the courtroom–that led Atty. Cochran to order 50 issues of The Final Call newspaper that featured the article for family and friends, and pull her closer into his mission to free Geronimo.
Sis. Rosalind recalled that, on the day of his release, it was clear that there would not be a media spectacle.
"I walked up to Johnnie, and I looked at him and said, "Johnnie," and he said 'Georgia's at 7.' Geronimo, his family and The Final Call were there. Johnnie walked me over to the table and I was there, at the table, when Geronimo took his first full dinner after being in prison for 27 years. It was catfish and some type of greens," she remembers. "That would not have been possible without Johnnie Cochran."
Her experiences confirmed for her that Atty. Cochran was indeed the people's champion. "Seeing him in action made me realize that God was with that man. The power of God was with that man," she insists. "He was a master attorney. He had to me, a steely determination, very determined, but there was also a very compassionate side. It was a great balance that you don't find in a lot of lawyers. He stuck to his guns and fought for justice, and I don't mean that as a cliché. He put everything on the line, his reputation. He was convinced, and by his conviction, you were convinced. The man had a heart of gold. He had determination of steel and a heart of gold."