GINNEWS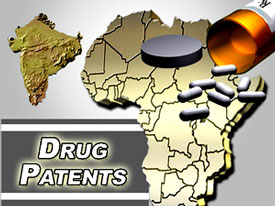 (GIN) – Protestors in Uganda, Tanzania, Kenya and other countries are denouncing a move by India, a key producer and exporter of generic anti-retroviral drugs, to pass new legislation that could eventually force inexpensive AIDS drugs off the market.
Protestors, in Uganda and Tanzania, say the Indian draft law will block poor countries' access to critical life-saving drugs. The draft law on drug patents is a requirement of the World Trade Organization (WTO) and according to WTO rules, India is obliged to protect and enforce drug patents from the start of this year.
This will stop routine generic drug production, protesters say. India's production of generic drugs led to major reductions in the cost of ARV medicines, as well as other medicines that treat other diseases affecting millions of people in developing countries.
In the coming weeks, the Indian parliament will decide whether to comply with obligations to the world trade body demanding that India grant 20-year patents on pharmaceutical products. Doctors Without Borders (MSF) sees severe repercussions if the proposed new patent laws are enacted.
"We believe (the new laws) will drastically restrict, perhaps even prevent, the production and supply of vital therapies by Indian pharmaceutical companies to other developing countries," said Ellen Hoen, director of policy advocacy and research with MSF's Campaign for Access to Essential Medicines.
According to AIDS activists, 50 percent of Indians and 30 percent of Africans who are HIV-positive buy the cheaper generic Indian version of ARVs.