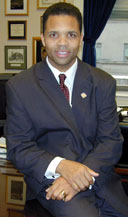 WASHINGTON (FinalCall.com) – As various budget amendments snaked their way through the complicated legislative process, Congress agreed by voice-vote to include an additional $250 million for Africa in the $82 billion Supplemental Wartime Appropriations Act (HR 1268).
The amendment, which was sponsored by Rep. Jesse Jackson Jr. (D-Ill.), included $150 million for food aid to the Sudan and increased by $100 million disaster relief and refugee assistance aid to the Sudan and other parts of Africa.
"Today good people stood up for what's right to help others who are truly needy in the world," said Rep. Jackson in a statement March 15.
Earlier, the Appropriations Committee had accepted a Jackson amendment to increase Sudanese food aid by $150 million, but rejected the $100 million for disaster relief and refugee assistance. The amendment passed the committee by one vote, 32-to-31. Every Democrat on the committee and three Republicans supported it.
"Fortunately, this money goes to a true emergency. There are a lot of non-true emergencies in the bill," Rep. Jackson told The Final Call.
In the Sudan and the Democratic Republic of Congo, at least 1,300 people are dying each day, he pointed out. About 30 percent of the people in Darfur, Sudan are starving. The World Food Program estimates that it will need to provide food assistance for 5.6 million people in the Sudan and 2.3 million of them are in Darfur.
"I am committed to fighting for Sudan and other African nations, to make sure they receive their fair share of foreign assistance. America cannot ignore whole regions of the globe. We must embrace them, because it is the right thing to do," he continued. "In Sudan, they have their own 9/11 every three days. Nearly 4,000 people die every three days in the Sudan. In about three months, they lose the number of people that were lost in the tsunami. And so, a tsunami is occurring in Sudan every three months."
The irony is that news about tsunami relief "has essentially knocked Africa, the Sudan, and the Congo from the front pages of the newspaper, sometimes to the last pages, and indeed off the pages entirely, Rep. Jackson complains. "But we have a man-made disaster in the Sudan that we could actually do something about. We could provide air cover to stop helicopters and Janjaweed forces from disrupting the quality of life for people in villages. This is a small pittance that must be leveraged with international funds to provide nearly $1 billion in assistance that the people in the Sudan need right now."
The hundreds of millions of dollars in U.S. aid will feed a couple of hundred thousand people in Sudan for the next six months, Rep. Jackson pointed out. He has served on the House Appropriations Committee for six years. He's on the Subcommittee on Foreign Operations, Export Financing and Related Programs, which funds disaster aid and refugee assistance, but his passion is equally strong about one pressing domestic issue: voting rights.
"Even though we are now 43 members of the United States Congress, one United States senator, we are also under an obligation to ensure that African Americans and other minorities have an opportunity to get to Congress, as well," he said.
He is the author of "A More Perfect Union: Advancing New American Rights," a book considered by many to be a new "Bible" for voting rights issues for all Americans.
"The renewal of the Voting Rights Act in 2007 is an important fight for us to engage in. We're going to need the numbers to do that. It is the number one civil rights issue of our day. So we must begin–as Reverend Jackson and Minister Farrakhan and others have suggested–a national campaign to educate people on what's at stake. We must begin to organize to strengthen, lengthen and indeed ensure that our voting rights are protected and enforced.
"You do not lose your right to vote–this is a myth–in 2007. What we lose is the ability to go to the federal government when a state draws a plan that excludes us," Rep. Jackson explained. Under the law as it now stands, Blacks may petition the Justice Department to demand that a state redraw its voting district plans.
In other words, the Voting Rights Act now provides for "pre-clearance" of state voting districts to make sure Blacks and Latinos have a fair chance to elect their own representatives. Each state must pre-clear their voting district boundaries under the 1965 Voting Rights Act, and the Justice Department itself looks at that state plan and makes sure that those districts are drawn in such a way as to include those who have been historically locked out.
"Without that pre-clearance provision, the Voting Rights Act is left in the hands of those same state legislators who make decisions around Democrats and Republicans, but don't make decisions around Black folks–That's what we're fighting for here," Rep. Jackson concluded.