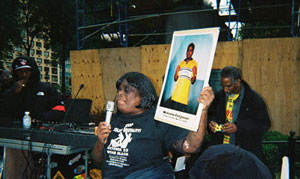 (FinalCall.com) – Juanita Young is legally blind and suffers from asthma. But that did not stop the New York Police Department from arresting her in June 2003, charging her with trespassing, holding her for 35 hours and refusing her medical attention.
According to Ms. Young, she was asleep in her bed when officers from the 40th Precinct in the Bronx ordered her and her three children to get out of the apartment due to an order of eviction. However, she maintains that she was never served with eviction papers. She further alleges that a police officer dragged her in handcuffs down the steps of the apartment building.
Activists say her outspokenness against police brutality made her a target in the continuing campaign to intimidate those who stand up against police crime. Ms. Young, according to activists, had become a powerful voice for social justice.
This case is approaching its 19th month, without any resolution. There have been 12 scheduled court appearances. Originally charged with three counts of criminal trespass, she now faces only two trespass charges and must appear in a Bronx courtroom on March 30.
"We are ready to go to trial," offered Steven Reed, spokesman for Bronx District Attorney Robert Johnson. Mr. Reed said that the reason for the continual delays was due to Ms. Young's health, and the legal problems facing her activist-attorney Lynne Stewart. He said that Ms. Young's legal team rejected an offer for an Adjournment Contemplating Dismissal (ACD). The District Attorney's office has not made any public comments on the case, which has become a cause celebre in the national fight against police misconduct.
"I am innocent and the ACD implies guilt," argues Ms. Young. She states that the only thing she is guilty of is uncovering the facts surrounding, what she calls, the "point-blank execution" of her son, Malcolm Ferguson, at the hands of a NYPD Street Crime officer in March 2000.
Ms. Young said police had targeted her son because of his participation in rallies protesting the 1999 killing of Muslim immigrant Amadou Diallo. She stressed that there are too many unexplained details in Malcolm's death. She joined the October 22nd Coalition Against Police Brutality; started attending anti-police brutality rallies, gave lectures around the nation against police brutality–literally becoming a thorn in the side of the NYPD.
"We are continuing to stand with Juanita Young, because people must realize that police brutality has not ended in America; it is on the rise," claimed Steven Yip, director of the New York City October 22nd Coalition. Mr. Yip claimed that, from Los Angeles to Miami, police misconduct was increasing. On the October 22nd website (www.october22-ny.org), there are names of four persons who have been killed by law enforcement so far in 2005.
On March 30, three members of the Brooklyn-based Malcolm X Grassroots Movement are scheduled for a court appearance to answer charges against them for assault and obstruction of government administration. The three are members of the organization's Cop Watch Unit.
"I cannot speak to the specifics of the charges," explained Asha Bandele, media spokesperson for the group. They started the cop watch program because there were too many police shootings in the city and someone had to step up to the plate, she stressed.
According to observers, the three members had responded to a report that the police were beating a Black man in the street and, as they began to film the police activity, officers allegedly told them to move on, but an argument ensued.
"We must maintain our vigilance," argues Ann Braden of the Kentucky Alliance Against Racist and Political Repression, which is located in Louisville. Her organization is currently fighting the decision by the Louisville Police Department to pay a White officer $59,000 in back pay after he was exonerated by a jury in the January 2004 death of 19-year-old Michael Newby. The police department said the officer was guilty of excessive use of force. The officer, who claimed that the teenager had tried to get his gun, shot Mr. Newby four times in the back.
"There is a double standard in Louisville. The police chief recently fired four White officers in the beating of a White man, but Blacks cannot get justice, and we must say that this is wrong," Ms. Braden said. She argues that the Louisville Police Department continues to de-humanize Black men, because they do not feel that Black life matters.
"This city must face the racism on the police force. This community needs justice. We are not going to be quiet about the Michael Newby case," she insisted. "We are not giving up. Our voices must be heard."