CHARLENEM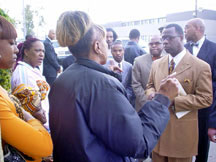 LOS ANGELES (FinalCall.com) – From the coastal city of Long Beach to the rolling hills of Valencia, Blacks within the county are being attacked by skinhead members of a White supremist gang and a Latino gang.
On March 9, hundreds of mourners joined the family of the latest attack victim, Demetrius "Bear" Williams, at his memorial service at Grant AME Church in Los Angeles. The 17-year-old was shot in an alley Feb. 24 by members of the Westside Longo gang.
Mr. Williams, who leaves behind an eight-month-old son, attended school at Cabrillo High, which sits in the heart of the gang's stronghold. The brazen midday shooting occurred approximately two blocks from the school and, most alarming to residents, across the street from the Long Beach Police Station's West Division.
The impact of the racial tensions span beyond Cabrillo's campus, as evidenced by 10-year-old Brenna Lee, whose older sister attends the school. "Despite concerns about civil liberties, some say that cameras are needed, a neighborhood watch needs to be formed, and more parents need to volunteer," she wrote three days before the Williams funeral.
Some residents welcomed assistance from the Nation of Islam, which has been ensuring safe passage to youth leaving Cabrillo High School since the shooting.
"I'm just thankful to have guidance from the Honorable Minister Louis Farrakhan, who was saying to us that wherever there's tension between the Blacks and the Browns, we have to move on that immediately, because our enemy is escalating the tensions between the two, and we are not natural enemies to each other," stated Western Region Minister Tony Muhammad.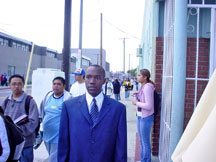 "We were able to assure the community that we all support each other. This is a great first step, because I think that people thought we were going to be out here like cowboys, mad-dogging the Latino family, but we embraced everybody. We represent peace and our leader represents peace. Two oppressed people shouldn't be fighting each other and letting the oppressor off the hook."
Nakiao Powell, whose family occupies two apartments across the street from Cabrillo, recalled that there have been three race riots at the school since January. "This school is not really safe for us Black people," she said. "When the Muslims walked by, I told them that today is the first day I really feel safe just being in front of my apartment. It's sickening."
On March 5, approximately 700 students, parents, educators, community leaders and police officers met at Cabrillo High to address the shooting. "My son is a hero, because if this had not happened, none of this would have come out. By me being a single parent, I'm going to march and keep marching as a soldier," stated Demetrius' mother, Yolanda Daniels.
Westside Longo member Martin Vasquez, who also attends Cabrillo High School, believes that the violence will escalate. "First of all, I'm sorry for what happened to the student at Cabrillo. That was something that was out of my reach. It was out of the gang's reach, and something that the police couldn't do anything about. There's a disrespect between Mexicans and African Americans that will take a long time to work on and stop, and, obviously, we're not willing to work on it. It's not evidenced in our schools or our communities."
On the contrary, says Long Beach NOI Study Group Coordinator Jason Muhammad, "It's time. That unfortunate incident has brought everybody in the community together, and all we have to do is what the Honorable Minister Louis Farrakhan has asked us to do, get in the community and give our people guidance."
The L.A. County Commission on Human Relations reports that, although Blacks constitute less than 10 percent of the residents, they were 54 percent of last year's hate crime victims.
At a March 2 "People Supporting Diversity" town hall meeting, Min. Tony also answered the call of Black parents in Valencia, whose children have undergone a series of skinhead attacks. "We are here to support them on a local issue, to make sure that they get justice. I don't think the racism is exclusive here but, certainly, maybe a little more concentrated. Some Whites with that mentality moved here, probably hoping that people of color would never come here, but now what they're truly feeling is coming out," he explained.
"I think the federal government should treat these White racist groups as they really are, domestic terrorists, or they're going to have a serious race problem here, because the people are at a boiling point."
New to Valencia, student Aaron Anderson was mob-attacked at a Jan. 30 house party. "I was surrounded by several Caucasian males, and they hit me with closed fists and blunt objects over the head repeatedly. I left the backyard and was approached by at least 50 other guys. Being outnumbered, I ran," he recalled. "I just don't think that it's fair for anybody of any nationality to have to go through that."
Laini Coffee, NAACP youth field director, is alarmed that racial attacks against Blacks are occurring nationwide. "The young people in Jacksonville, Miss., just had a peace march around the same issue. Oftentimes, we talk to young people to encourage them, but those are the young people who are already encouraged. We need to take it to the streets, the young people whose parents are in the homes talking bad about Black people, which we know they do. It starts in the home."